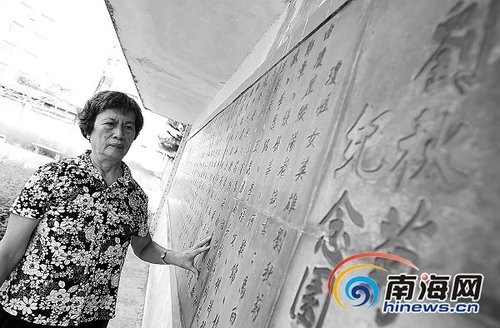 Revolutionary hero Liu Qiuju's daughter Lin Yuxiang [hinews.cn]
The flames and smoke of war have long dissipated from Guilinyang Farm near the city of Haikou in south China's Hainan Province, but famous stories of revolutionary hero Liu Qiuju (1899-1949) are still clear in locals' mind.
In 1899, Liu was born in Fuyun village, later renamed Guilinyang Farm.
Losing her parents at a young age, Liu and her older sister became the long-term hired laborers of a landlord, suffering persistent hardships.
During the Northern Expedition (1924-1927) of Kuomintang-Communist cooperation, as the fire of war spread to her hometown, Liu joined a peasant association led by the Communist Party of China (CPC), mobilizing fellow villagers to fight against local tyrants and gentry.
Like many women, Liu had no given name when she joined the revolution. Military officer Lin Keze named her Qiuju (autumn chrysanthemum), hoping that she could withstand the test of the wind and frost just like a wildflower.
In 1927, Liu joined the CPC. Through Party education, her revolutionary consciousness, enthusiasm and competence grew constantly.
In May 1928, Liu was captured, suffering severe torture in jail. Despite this, she remained unbending and kept the secrets of the CPC, guaranteeing the safety of fellow Party members. In 1930, she was rescued by other CPC members.
Liu's daughter Lin Yuxiang recalled she had been entrusted to her aunt's care since childhood. Her mother always went to see her at night and left before dawn.
Liu once said: "A revolutionary should take a long view; be selfless and impartial; and, have a lofty ideal and goal."
"He or she should live, fight and sacrifice everything for his or her ideals and goals and bear and overcome any hardship."
In August 1949, aged 50, Liu died of an illness at Wuzhishan Revolutionary Base.
(Source: Hainan Daily/Translated and edited by Women of China)