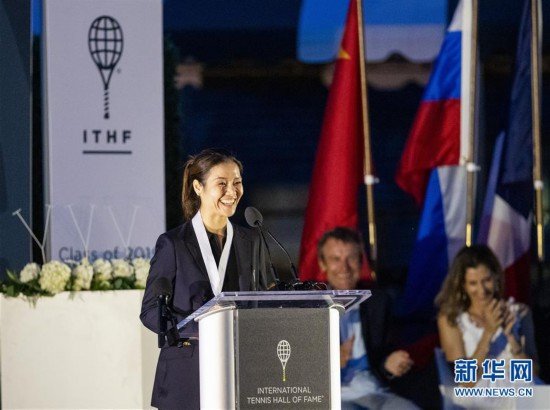 Chinese retired tennis great Li Na, two-time Grand Slam champion and former world No. 2, speaks at the ceremony of being enshrined into the International Tennis Hall of Fame (ITHF). (Xinhua/Wang Ying)
RHODE ISLAND, United States, July 21 (Xinhua) -- Chinese retired tennis great Li Na, two-time Grand Slam champion and former world No. 2, has cemented her reputation as a trailblazer in the game by becoming the first person from Asia to be enshrined into the International Tennis Hall of Fame (ITHF).
Li, 37, said at the ceremony of the induction here on Saturday night that it is a great mark for her professional career, inspiring her to continue making contributions to the game, helping the young in particular.
As a prolific history maker, Li was the first Asian tennis player competing in a Grand Slam singles final (Australian Open 2011), claiming a Grand Slam singles title (French Open 2011), winning two Grand Slam singles (French Open 2011 and Australian Open 2014), and reaching No. 2 in the WTA ranking (February 2014).
At her first peak in the 2011 French Open, Li eliminated four top-10 opponents along her way to her crown. She also collected seven WTA tour singles titles, finished runner-up in Australian Open twice, and entered quarterfinals at Wimbledon three times and the semifinals at the 2008 Beijing Olympic Games and 2013 US Open.
Li retired in 2014 at the age of 32 due to recurring knee injuries, eight months after winning that year's Australian Open and rising to her career-high No. 2 in the WTA ranking.
Recalling her sporting life starting from the age of 8, Li, a mother of two children, expressed her heartfelt thanks to all the people who had helped her. At the ceremony, Li also spoke in Chinese "thank you very much" to all her fans in China.
Li's on-court achievements, along with her engaging personality, helped spur interest in tennis at home in China.
The ITHF's introduction of Li emphasized two facts: the 116 million viewers of the French Open women's singles final in 2011, and the number of tennis fans in China rising from about 2 millions to more than 20 millions alongside Li's rising.
"I love seeing the sport grow in China," Li said, "and I'm proud to be part of that history."
At a pre-ceremony briefing, Li talked about the sport's future development in China, saying, "keep going, and I expects to see the emergence of a new Grand Slam singles champion in 5 to 10 years."
Talking about the same topic two days ago in New York City where Li was hosting a tennis clinic for dozens of American children, she said, "there is no big gap among the players. No one can assure a win before a match. Every Chinese player in the top 100 has her own strong points, her own way of thinking and her own supporting team. They will succeed in the future if they find the proper way for their development and stick to it."
On Saturday night at the LTHF, Li was joined by French tennis great Mary Pierce and Russian legend Yevgeny Kafelnikov in the hall's Class of 2019. All the three won a pair of Grand Slam titles - one at Melbourne Park and the other at Roland Garros.
Established in 1954, the ITHF is a non-profit institution that preserves and promotes the history of tennis and celebrates its champions, thereby serving as a vital partner in the growth of tennis globally. It is located in Newport, Rhode Island, USA, on a seven-acre property that features an extensive museum that showcases the history and honor of the sport.