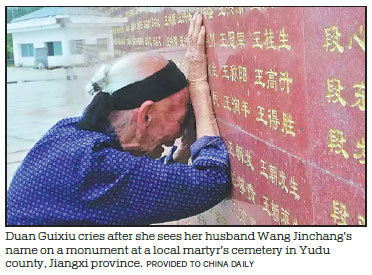 Duan Guixiu cries after she sees her husband Wang Jinchang's name on a monument at a local martyr's cemetery in Yudu County, Jiangsu Province. [For China Daily]
Almost 90 years ago, Duan Guixiu's husband made a promise to her that sadly he would never keep when he joined the Red Army in 1932. "Wait for me. I will come back. Listen to mother," Duan recalls Wang Jinchang telling her.
It was a winter's day and Wang, now 99 and the only surviving wife of a Long March martyr in Ganzhou, Jiangxi Province, stood by as he took off his civilian clothes and changed into his uniform. He asked her to take his clothes back home and left. It was the last time she saw her husband.
Duan was adopted as a future wife for Wang and came to her husband's family in Chexi township, Yudu County, Jiangxi Province, shortly after she was born.
When Wang left, they had been living as man and wife for only two months. "He was tall and good looking," Duan recalled.
In 1953, a local government official visited Duan, gave her a martyr's certificate and told her Wang was dead. Duan, however, refused to believe the official and held onto hope he was still alive.
"My husband always honored his commitments. He promised he would come back," said Duan, who is now frail and showing her age.
She has no difficulty in seeing and hearing, but it's hard to communicate with her because she doesn't speak mandarin.
But Duan recalls that she didn't want Wang to leave, and it was a hard choice to make for a poverty-stricken family that often did not have enough to eat.
Guo Hubei, an official with Chexi township government, who is in charge of martyrs' affairs and has followed Duan's story, said she has gone through many hardships.
After her husband left, Duan had to take care of her mother-in-law and her husband's two younger brothers.
"Life was so hard after Wang left that Wang's mother had no choice but to sell one of his brothers to a nearby village," Guo said. "For a period of time, the family even had to beg for food."
Despite the hardship, Duan still believed her husband would come back and refused to leave the family and remarry. In 1953, they started to receive a pension from the government as a martyr's family.
On May 14, Guo took Duan to the Memorial for the Departure of the Central Red Army's Long March. She frequently touched straw sandals and the red five-pointed stars exhibited in the memorial but kept silent all the time.
When she returned home, however, she stopped Guo as he was leaving and asked him why she couldn't see her husband's name on the memorial.
They went back to the memorial a second time and were told that she could see her husband's name on a monument at a local martyr's cemetery 10 kilometers away, Guo said.
It was late in the evening, but Duan insisted on going.
"On seeing her husband's name among thousands of names of martyrs, Duan burst into tears," Duan said. "With her hands resting on his name, she kept crying for about 20 minutes."
According to Guo, the woman is eligible for a 25,440 yuan ($3,712) annual pension from the government. "When recalling how hard life was in the told times, I always want to cry," Duan said.
"Now the Party has been offering me a lot of care and support. I feel very happy."
(Source: chinadaily.com.cn)