Lam Cheng Yuet-ngor [Women Voice]
After an election on Sunday, the winner Lam Cheng Yuet-ngor was announced as the next chief executive of China's Hong Kong Special Administrative Region (HKSAR).
Lam garnered 777 of 1,163 valid votes, followed by Tsang Chun-wah with 365 and Woo Kwok-hing with 21, according to the Electoral Affairs Commission of the HKSAR.
She will take oath of office on July 1 becoming Hong Kong's fifth chief executive, and the first woman to hold the post.
Lam, 59, had been chief secretary for administration of the fourth-term HKSAR government since 2012.
She joined the Administrative Service in 1980 and has served in various offices and departments.
She came into prominence in 2007, when she was named as secretary for development, one of the principal officials.
Decisive, firm and handling tough issues, Lam became a rising star in politics.
In 2012, before she entered the HKSAR government headed by Leung Chun Ying, a poll showed her approval rating hit a record high of 73.8 percent, the highest among her counterparts.
Her Appointment Comes as No Surprise
Many commentators said Lam's electoral victory "is within expectation" and "agrees with the people's wishes."
According to an earlier poll published by the Hong Kong Research Association, up to 73 percent of respondents thought she was most likely to get the post.
The day before the election, her approval rating remained much higher than those of the other two candidates.
Moreover, media outlets also tended to believe she had the highest chance of being elected.
An article published by the New York Times said the vote would not be a tight race, while the BBC said she was just a step away from the 601 ballots needed to win the election in the nomination phase, in which she had already had 580 nominations.
Coming from a Low-income Family
Lam's ancestral home is Ningbo, a city in east China's Zhejiang Province.
She grew up in a subdivided flat of an old residential building in Wan Chai, the SAR, where there was no elevator or flush toilet.
In addition, being separated into many rooms to accommodate more tenants, such rental flats, then ubiquitous in the SAR, were congested and had poor light and great hidden fire hazards.
Lam excelled in the academic field and dreamed to become a doctor after attending primary and secondary schools.
Later, she set her mind to become a social worker to serve society and was admitted by the Social Work Department of The University of Hong Kong with outstanding exam results.
In her second year of school, she switched her course of study from social work to sociology.
In 1980, after she graduated with a degree in social sciences, Lam joined the civil service by passing relevant exams.
Showing Great Passions for Charity
Lam's impoverished childhood makes her cherish her current life a lot.
She once said she would feel great happiness as long as she could have a hot bath after returning home from work every night.
In 2003, when SARS broke out, Lam set up the We Care Education Fund for children whose parents died of the disease.
She intended to raise H.K.$ 10 million (U.S.$ 1,287,380). However, under active response of her colleagues and community residents, they collected H.K.$ 83 million (U.S.$ 10,685,270) in three months.
Over the past more than 10 years, the advisory committee set up to supervise the fund's usage has held regular meetings, which Lam never skipped, whichever post she took.
Friends and Family
The impression which Lam leaves to her friend is "of lofty character and great sympathy, kind, friendly, thoughtful and humorous."
These qualities may also have a link to her early experiences.
During this year's Valentine's Day, she posted on a social networking website a "love letter" written by her husband, Lam Siu-por.
"Our hearts are closely linked. My support for you is endless. I hope you can win the election and work hard on the new post for Hong Kong citizens," Lam Siu-por wrote.
Lam has expressed her gratitude for having her family: "I can reach today's place in government and devote so much time must be because of my family's support, particularly my husband's."
Lam loves her two sons greatly, always trying her best to eat with them and often cooking for them.
An early impoverished life inspired Lam to work hard. Meanwhile, it also taught her to never shrink back and have pity for people in need.
It was just because of these qualities that she quickly emerged as a popular, efficient and capable new political star during her five years of tenure as secretary for development.
A 'Tough Fighter'
Over her 37 years of political career, Lam has earned her reputation as a "tough fighter" due to her firm stance when dealing with difficult issues.
On July 1, 2007, she was named secretary for development.
In less than a month of taking office, she oversaw the demolition the Queen's Pier, which was built in the early twentieth century and moved to its current location in 1954.
In the colonial age, it was the only public pier used for holding ceremonies. After the new Star Ferry Pier opened for public service in 2006, the Queen's Pier faced the fate of being demolished.
A landmark memory of the old-style Hong Kong, its demolition triggered protests of many conservationists, who had difficulties understanding the government's decision.
On July 27, three conservationists announced they would begin an indefinite occupation and hunger strike until the government promised to retain the pier.
Two days later, Lam had a talk with nearly 100 protestors, explaining the reason of the government's decision patiently.
She told them academic opinions thought Queen's Pier "does not reach the level of a great historical value". In addition, she said sincerely: "We must walk another step ahead if we want to continue Hong Kong's prosperity. I can't do it without demolition and reconstruction."
Instead of letting her lose popularity among citizens, the "battle" made her famous overnight.
Her proper handling of the pier brought her considerable praise and the image of "daring to cope with tough issues" and "having a firm position."
Since then, her reputation of being a tough fighter spread, and some people even called her a "bomb disposal expert".
Lam never wasted time in chatting. As a result, some people thought she was "arrogant and indifferent".
However, a former colleague of her once wrote: "In fact, seeing from many of her ideas, she not only has clear mind but is ready to help others, especially underprivileged people."
Such a work and behavior style once made her the most popular administrative officers. A poll conducted by Hong Kong University in April 2012 suggested that her approval ranking reached 73.8 percent.
'I Love Hong Kong'
With a high popularity rating, Lam became chief secretary for Administration under chief executive Leung Chun Ying in July 2012.
Soon after, the Hong Kong government planned to introduce a new curriculum called moral and national education to the SAR's primary and secondary schools.
The plan triggered strong opposition from some people who were greatly affected by Western ideology and models of thinking.
They asked the government to withdraw the subject, criticizing it as "brain washing" just because the teaching reference materials for its textbook mentioned the "China model".
Finally, the government suspended its plan.
Lam was the most popular official at that time and also the attention focus of media outlets.
Many people hoped she could keep silent in this matter to protect herself. However, this was not her style.
Lam said bluntly the government's act of withdrawing the subject was not proper, adding she would feel sorry for Hong Kong citizens if she had not done so.
In 2015, part of Hong Kong's public rental housing was found to be tainted by lead.
The government attached great importance to the matter and established a special investigation committee.
However, some pan-democrats still refuse to let it go and tried to aggravate the situation.
Taking advantage of residents' dissatisfaction about the poor conditions and high rents in public housing, they put forward many unreasonable requirements like arranging for blood examination for all citizens.
Food safety always affects people's heart most, and the government's work met great difficulties. Two officials were even forced to drink "lead water" when explaining to residents.
Always daring to speak, Lam fought back against pan-democrats during a legislative council meeting.
"People in ancient times often said a person with no demand would have lofty characters naturally. Today, I say a government official with no expectation is always courageous," she said.
"I was bold enough to admit the inadequacy and imperfection of our systems. But it makes me feel helpless that although our government has promised all-round investigation and set up an individual investigation committee of considerable credibility, pan-democrat councilors still in hot pursuit and fierce attack."
"We have already issued inside instructions, reminding officials not to accept humiliation. Because they not only stand for themselves but the dignity of the SAR government," she added.
Her words gave a heavy fight back to pan-democrats, much to their surprise.
Lam also said she knew that her words would "be distorted, blackened and bring about personal attacks". But, since she had the nerve to admit the inadequacy of the systems and supervise each department's work, she also had the courage to speak fairly for civil servants regardless of the risk of being criticized for speaking up for their own members, she said.
In 2014, the Occupy Central Movement, a civil campaign initiated by a university professor, struck Hong Kong, bringing it into temporary chaos.
Five HKSAR officials led by Lam held televised open talks with student leaders.
As the student leaders stuck to their proposal of civil nomination, which was against law, the talks achieved no progress.
However, in the talks, Lin expressed her firm stance of safeguarding the One Country and Two Systems Principle and the authoritativeness of the Basic Law of Hong Kong.
"Democratic systems across the world are all built on a constitutional base," she said.
"Hong Kong is a special administrative region of China, so its democratic election systems must be formulated in accordance with the constitution of the People's Republic of China and the Basic Law of Hong Kong."
Maybe this can explain why most respondents of a recent poll believed that Lam met the four conditions for being the chief executive — loving her country and Hong Kong; capable of management and control; being trusted by China's central government; and, supported by HKSAR citizens.
In Lam's own words, whether she is firm or sentimental, it is all "out of my love for Hong Kong."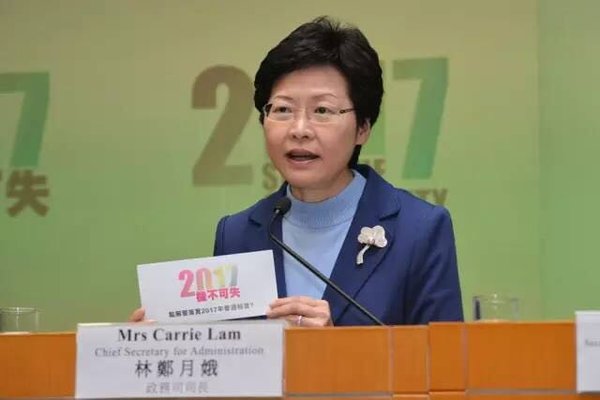 Lam Cheng Yuet-ngor at the election on March 26 [Women Voice]
A sub-divided flat in Hong Kong [Women Voice]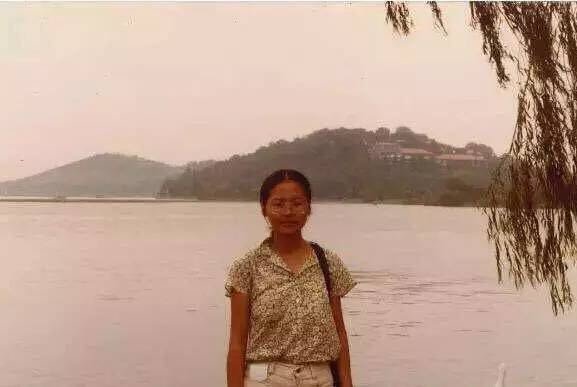 Lam Cheng Yuet-ngor in her youth [Women Voice]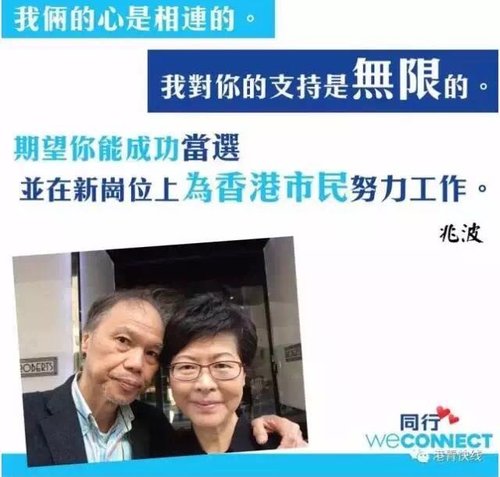 Lam Cheng Yuet-ngor and her husband [Women Voice]
Lam Cheng Yuet-ngor's family [Women Voice]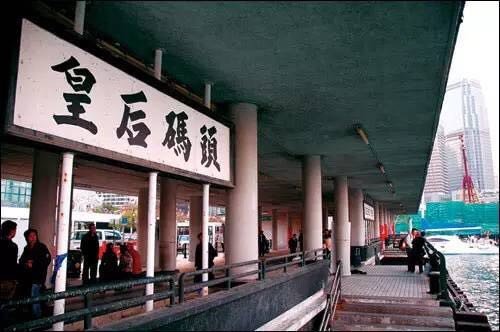 The Queen's Pier [Women Voice]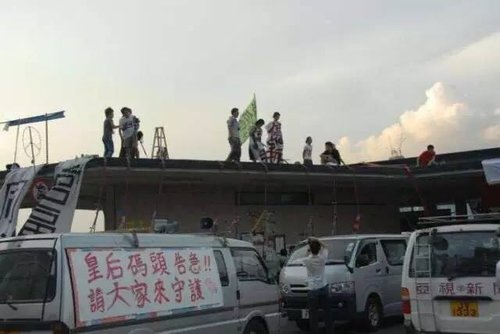 The Queen's Pier [Women Voice]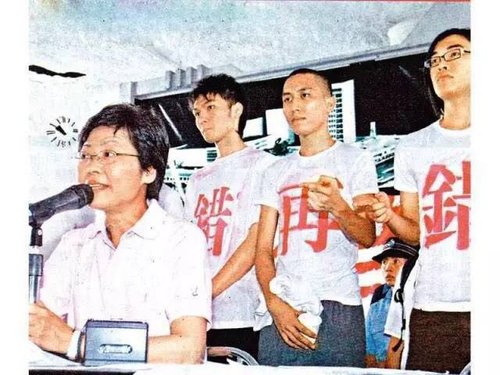 Lam Cheng Yuet-ngor speaks with sit-in protesters at Queen's Pier. [Women Voice]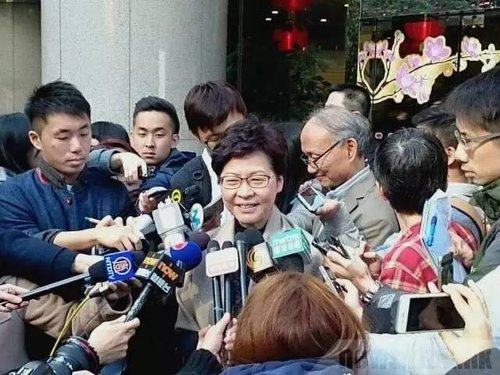 Lam Cheng Yuet-ngor gives an interview. [Women Voice]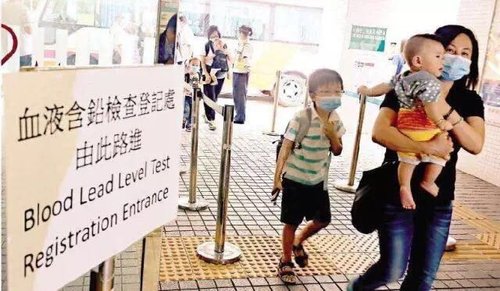 Hong Kong citizens coming to take blood test [Women Voice]
Lam Cheng Yuet-ngor is a member of the three-people political reform team. [Women Voice]
(Source: Women Voice/Translated and edited by Women of China)