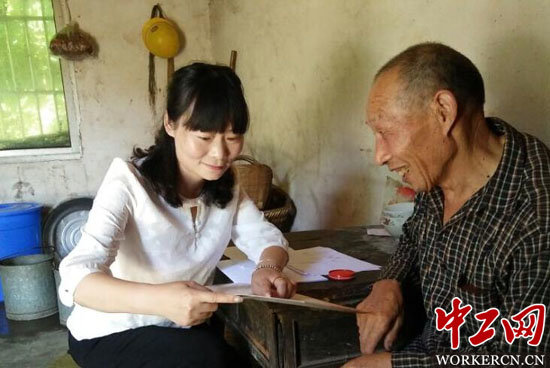 Liu Zhihua at a villager's home [workercn.cn]
A hard-working female official from northwest China's Shaanxi Province has served local impoverished villagers by improving local employment opportunities over the past year.
In 2016, Liu Zhihua became first secretary of Laowan Village in the province's Shiquan County to help local residents shake off poverty.
To make an efficient relief plan, she gave up all her spare time visiting villagers' homes and fields regardless of muddy mountain roads.
After investigation, Liu encouraged 23 poverty-stricken households to grow peanuts. By 2017, these families' incomes had risen by 1,000-3,000 yuan (U.S.$ 149-447) each per year.
To boost villagers' confidence in achieving affluence, she publicized related policies in detail. Liu encouraged impoverished households who were incapable of starting businesses to join a rural enterprise as small shareholders. Seven impoverished households have received nearly 20,000 yuan (US$ 2,985) in bonuses so far.
During heavy rainfall seasons, Liu checked the situation of each disadvantaged household and evacuated villagers whose residence had safety hazards.
Under Liu's coordination, the village built two bridges, bringing great convenience to people.
In addition, she has helped solved many difficulties of locals such as the drinking water issue and house renovations.
Suffering from bad eyesight, villager Li Xiaoyou's son met many setbacks when seeking a job. Liu contacted Shiquan County Disabled Persons' Federation many times and helped Li's son obtain an opportunity to attend a city-level blind massage training session for free.
Moreover, she helped impoverished farmer Ye Ping apply for government medical assistance and recommended a job opportunity to him. She also helped the grandson of impoverished farmer You Jie receive an education assistance subsidy.
"I was born and grew up in a village. I took up my post with gratitude in my heart and will serve villagers conscientiously," Liu said.
"Although what I've done are all small things, each time I complete a task I felt comforted and worthwhile!"
(Source: Poverty Alleviation and Development Bureau of Shiquan County/Translated and edited by Women of China)