Jiang Xin (front) attends the opening ceremony of the local industry development service platform on April 7. [Hunan Daily]
Jiang Xin, president of the women's federation in central China's Hunan Province, recently shared her diary on the progress made towards poverty alleviation and the ongoing contributions of locals.
The following several extracts are all taken from Jiang's writing.
Longhui County
I arrived at Bantang Village, Longhui County, on April 7 to attend the opening ceremony for the local industry development service platform and see several firms offering targeted support for farmers.
Thanks to efforts of the poverty relief team from the provincial women's federation, the region has witnessed great changes.
Running drinking water and the Internet are available to 350 households. Trash cans are set along the newly-built roads.
Local resident Long Juxiang told me that most of her relatives were reluctant to visit her before, but after the poverty relief team arrived, her brother was surprised at what he saw in the village when he arrived.
Apart from the upgrading of infrastructure, the federation also helped develop local industry and stimulate the economy, the internal driver of poverty alleviation.
Currently, the region boasts tens of thousands of fruit trees, with the founding of a planting cooperative, a food-processing cooperative and a handicrafts commission.
The poverty relief team also came up with marketing solutions for locals as the officials connected an Internet company to build an online sales platform for their products.
The team even tried to find possibilities that companies and farmers could benefit from each other.
Finally officials found a handicrafts company which is willing to train farmers for free and buy products made by them.
Zhijiang Dong Autonomous County
I had an inspection tour of poverty relief work on May 11, in Guchong Village, Zhijiang Dong Autonomous County.
The village used to be notorious for its bad transportation, sterile land, poor water quality and two local officials even quit to work elsewhere.
Residents elected Long Siqing as the village Secretary whorana thriving business.
In the end, she chose to gain wealth alongside fellow villagers and gave up her own trade.
As the village is located in a mountainous region, Long developed industries of tangerines planting, pig and chicken farming and others.
Villagers benefited a lot from these efforts as they moved in villas and got better incomes.
The tangerine garden in the region was honored as a demonstration base for agriculturally relieving poverty across the province.
Long said the average annual income of locals had increased from 1,000-8,000 yuan (U.S. $149-1,194) and she is confident that that number could be doubled by 2020.
Huayuan County
I carried out field research on May 12, in Shibadong Village, Huayuan County.
The village has established a farmer cooperative for the development of local embroidery with Miao ethnic features with help of the poverty relief team, the local women's federation and the tourism department.
The cooperative has held over 10 training courses, benefiting more than 1,000 people.
Embroidery products of locals include: traditional Miao ethnic clothing and many small modern objects such as cushions, scarves and laptop bags.
Now, crafts workers can earn more than 1,500 yuan (U.S. $ 223) per month.
Furthermore, women in the region have benefited from free screening of cervical and breast cancers.
Last spring, the standing committee of the provincial Party committee decided to implement free breast and cervical cancer screening for 4.45 million rural women who had not been examined within 3-5 years.
Last year, the provincial government allocated 41.9 million yuan (U.S.$ 6.4 million) to offer free breast and cervical cancer screening among 1.12 million women, financially aided 3,990 ill women who were living under the poverty line, among whom2,503 were recorded impoverished households.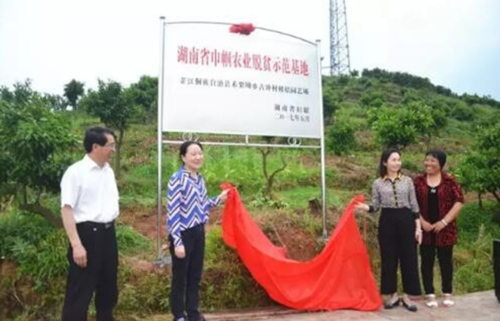 The poverty relief base in Guchong Village, Zhijiang Dong Autonomous County[Hunan Daily]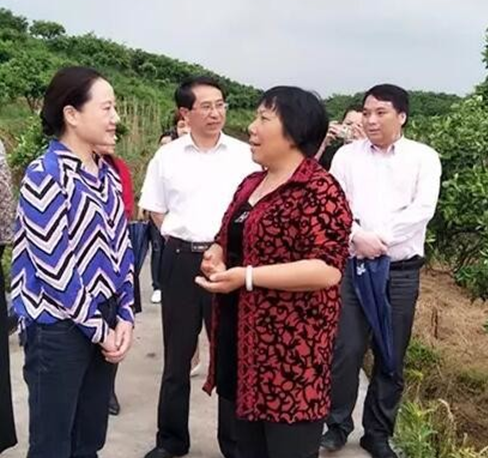 Long Siqing (R) tells Jiang Xin (L) about poverty relief progress in Guchong Village, Zhijiang Dong Autonomous County[Hunan Daily]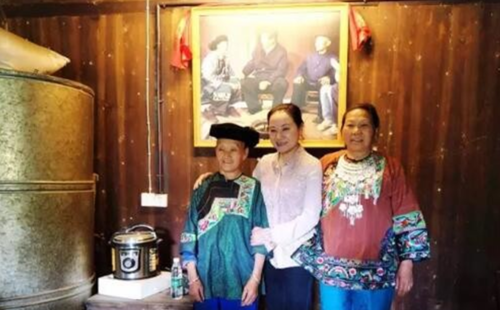 Jiang Xin (C) [Hunan Daily]
(Source: Hunan Daily/Translated and edited by Women of China)