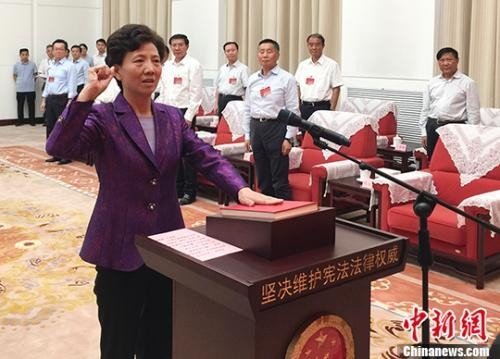 Chen Yiqin [Chinanews.com]
The local government in southwest China's Guizhou recently appointed senior official Chen Yiqin as secretary of the provincial Party leadership group.
Chen, 58, has previously served as deputy secretary of Guizhou Provincial Party Committee and secretary of the Guizhou Provincial Commission for Political and Legal Affairs.
Chen was also an alternate member of the 17th and 18th CPC (Communist Party of China) central committees as well as a member of the 10th, 11th and 12th Guizhou provincial Party committees.
Chen is from the Bai ethnic group and was born in Zhijin County, Guizhou. She began to work in March 1977 and joined the CPC in May 1985.
She was a researcher of the Party School of the CPC Central Committee.
Chen Yiqin [Women Voice]
(Source: China Women's News and China Economic Net / Translated and edited by Women of China)