Xie Zhangmeng (L) [cnfpzz.com]
Over 300 young officials from Baojing County in central China's Hunan Province have been sent to villages across the region in October to carry out their two-year-long poverty alleviation work.
Among them were Xie Zhangmeng and her three female colleagues – who are serving in the county's Jinluohe Village.
"I felt nervous when we just arrived at the village, but now I love it. Helping villagers with various matters such as printing files and going through formalities, people treat us like their own daughters," said the 25-year-old Xie.
The young officials get 1,000 yuan (U.S.$ 152) as a subsidy from their unit every month.
Xie is the mother of a one-year-old baby, and her husband is also carrying out poverty alleviation work in the county.
The couple spends 2,000 yuan (U.S.$ 304) every month hiring a nanny.
"After they came here, my work became much easier," said Shi Zhilong, Party secretary of Jinluohe Village.
In the past when Shi submitted a form, he had to fill in by hand and ride to the town's government office, which took him an hour and a half. But now, Xie can do it via computer in just a few minutes.
Peng Liyuan, a native of the city of Yongzhou in the province, is the first Party secretary of Yingfeng Village which is 20 minutes' bus ride away from the center of Baojing.
To better help villagers register on the country's social poverty alleviation network, the 24-year-old Peng often skipped her breakfast and struggled with a stomachache. Buying some medicine, though, she quickly returned to her post.
Like other young officials, she also had some unusual experiences due to her inadequate grassroots work.
This year, Yingfeng Village elected new members of its villagers' committee. During the vote counting stage, a villager nodded his head to Peng. She gave him a nod back, out of politeness.
However, this caused a misunderstanding by another villager, who thought the election was rigged and he broke out into curses.
Although being misunderstood sometimes, Peng always maintains a warm heart when serving villagers.
Since her arrival, she has helped improved the village's infrastructure, such as ensuring the drinking water supply to families, building roads and setting up street lamps. "If I could choose again, I would still come to village," she commented.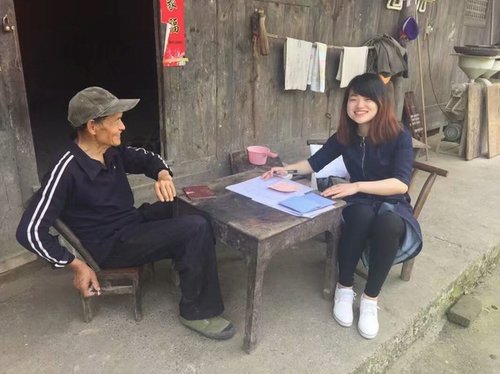 Peng Liyuan (R) [cnfpzz.com]
(Source: cnfpzz.com/Translated and edited by Women of China)