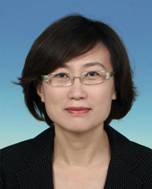 Guo Yanhong [bjdj.gov.cn]
Guo Yanhong, general manager and board member of Beijing Urban Construction Group (BUCG), has been nominated as mayor of Fangshan District in Beijing, local authorities announced.
Guo, 50, who also serves as deputy-secretary of the Party branch of BUCG, is a native of Wendeng, east China's Shandong Province.
The announcement was issued by the Organization Department of Beijing Municipal Committee of the Communist Party of China (CPC) on December 25.
She joined the CPC in April 1987 and graduated with a master's degree in engineering from Hunan University.
Guo began her professional career the same year and served at many senior posts in Beijing No.3 Construction Engineering and Beijing Construction Engineering Group, including as deputy general-manager, chief economic manager and investment director.
She has been serving at her current positions at BUCG since October 2015. Guo is also a delegate to the 19th CPC National Congress which was held this October.
(Source: Beijing Daily/Translated and edited by Women of China)