Ye Caiping (R) and Ma Lingzhen (L) check a list of beneficiaries from the Shelter Alternation Program at a village committee office. [Xinhua]
Ye Caiping and Ma Lingzhen, officials in Baergelejin village in northwest China's Xinjiang Uygur Autonomous Region, first investigated the conditions of local people there three years ago and chose to remain.
Ye and Ma previously worked at the Agricultural Bureau in nearby Zhaosu County. In 2016, together with other colleagues, they were dispatched to the remote ethnic area in the western Tianshan Mountains to work for a year in an inspection and research team.
Some village officials returned after a year's term ended, but they stayed and continued to help local people fight against poverty.
Last month, they announced they would remain even longer, which made villagers' new year happier than before.
They pasted couplets, decorated with lanterns and streamers to celebrate the Spring Festival with local villagers.
Ma Lingzhen (C) sings the song 'Riding on Horses and Protecting Borderland' at a reception to welcome college students returning home. [Xinhua]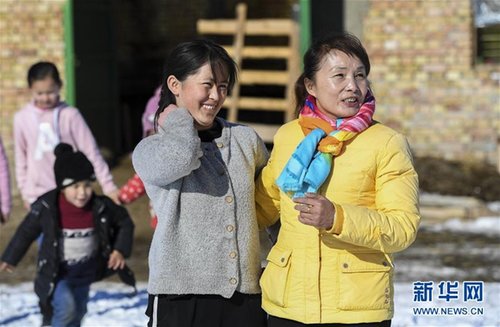 Ye Caiping (R) talks with college student Tunike Duohudebai. [Xinhua]
(Source: Women Voice/ Translated and edited by Women of China)