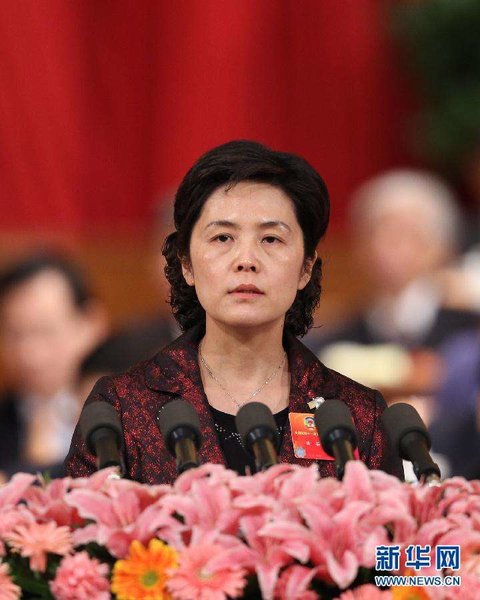 Xie Ru expresses her ideas at the event. [Xinhua]
Political advisor Xie Ru recently presented some relevant proposals on how to better tackle medical service problems for impoverished people in the first session of the 13th National Committee of the Chinese People's Political Consultative Conference (CPPCC).
Xie, who is also part-time vice president of the All-China Women's Federation (ACWF), said that there were 30.46 million impoverished people in rural areas nationwide by the end of 2017, with many of them being caused by large expenses on treatment of diseases, especially those critical diseases.
As a result, tackling the problems of medical services for impoverished people is not only an important area to achieve the target of health for all people, but also a key point to winning the poverty allevation campaign.
Xie presented her proposals on further improving health-related poverty-alleviation to the political advisory body.
She took the practical experience of east of China's Jiangxi province as an example, noting that it has begun to implement the supplementary insurance system for critical diseases since 2016.
The local government purchased supplementary medical insurance for those impoverished residents recorded in the archives and established the so-called "Four Securities" system for them, which includes basic medical insurance, insurance for major disease, supplementary insurance, and medical aid. Also, it has sustainable and outstanding effects.
The actual compensation figure was up to 93.2 percent on hospitalization expenses for those impoverished patients around the whole province in 2017.
She suggested that health-related poverty-alleviation can be achieved in three aspects: alleviating impoverished people's burdens on major diseases, improving the medical levels in poverty-stricken areas, and improving health-related services for impoverished people.
She stressed that, on alleviating impoverished people's burdens, the government can provide practical assistance by improving the medical insurance levels for impoverished people, carrying out special treatment for special major diseases, and facilitating the procedures for hospitalization reimbursement.
The government can fund measures to incorporate all impoverished people into the basic insurance system, and eliminate the compensation threshold of designated medical institutions in poverty-stricken counties and villages.
In addition, it can intensify the support for critical diseases on civil administration level, carrying out relevant aid policies for those impoverished people with records.
All the measures above can better secure the medical insurance on major diseases for them.
For the special treatment of major diseases, she suggested: "First, the government can screen the types of disease that induced poverty and take them as key security objects and enlarge their types based on the nine diseases currently."
Secondly, the government can implement special treatment and organize patients to centralize diagnosis in the designated hospitals.
Third, the government can pool special fund, basic medical insurance, and social donations to prevent the critical diseases that incorporated in the special treatment project.
"Jiangxi has launched free treatment projects on 10 major diseases for those impoverished people, such as the cataract, cleft lip and palate, congenital heart disease, leukemia, cervical cancer and breast cancer," Xie added.
Since 2009, Jiangxi has provided relief assistance to the maximum of patients, which reached 870,000 and set up a national record. Also, it has formed regular treatment mechanism.
Furthermore, in order to facilitate the relevant procedures and alleviate impoverished patients' burden on hospitalization, the government can allow them receive the medical treatment without paying the fees upfront; and, establish one-stop settlement, which includes all kinds of reimbursements such as the basic medical insurance, insurance on major disease, supplementary insurance and medical aids.
A one-stop settlement can also be implemented, which can save people's time. Hospital beds should be arranged for impoverished patients and given relevant priorities.