Representatives at the event. [Women of China / Fan Wenjun]
China Children and Teenagers' Fund (CCTF) held an unveiling ceremony for its first Parent-Child Library at Beijing-based China National Children's Center on May 29 to further encourage and promote family education.
The activity was sponsored by the education group Tomorrow Advancing Life (TAL).
Chinese actress Huo Siyan attended the gathering as the ambassador of the Parent-Child Reading Project, and shared her own experiences with other participants.
She said: "I began to tell stories to my son when he was less than four months old. I also found that his appetite would be better while listening to stories,"
"What's more, when he could speak, he retold me a story that I told him before, which was a big surprise for me," Huo added.
She also suggested parents and children to express their love to one another more often.
Xu Xu, deputy secretary-general of the CCTF, said that the activity is a concrete action to implement the requirements of promoting family education and family culture, which is also an important component of the Happy Reading public-welfare project.
The library can provide parents with guidance on co-reading methods through online and offline reading resources and a comfortable reading environment, she said.
She said that the initiative can help more children form the good habit of reading, and they can learn more skills and become smarter during the process.
Furthermore, the project also contributes to helping more children enjoy quality education resources, said Xu.
TAL Vice President Wan Yi said the group will integrate education resources with the internet, such as by providing Chinese and English e-books.
Liu Ming, who is a researcher from the Psychological Research Institute of the Chinese Academy of Sciences, organized some games to show participants how to achieve the goal of happy reading.
TAL donated 15 million yuan to CCTF in January to organize a series of activities to promote children's development in different aspects over the next five years.
Such initiatives include donations to libraries, conducting surveys and organizing original story campaigns among families.

"We want to create a shared education platform incorporating parents, children, experts and volunteers," says a TAL official.
Furthermore, under the guidance of experts, the Happy Reading Project has brought in various categories of books for different age groups on Chinese culture, children's literature and art, as well as the popularization of science.
In addition, initiators will hold a variety of theme activities at China National Children's Center to provide professional guidance and further encourage family education.
Huo Siyan shares her experience with other participants at the event. [Women of China / Fan Wenjun]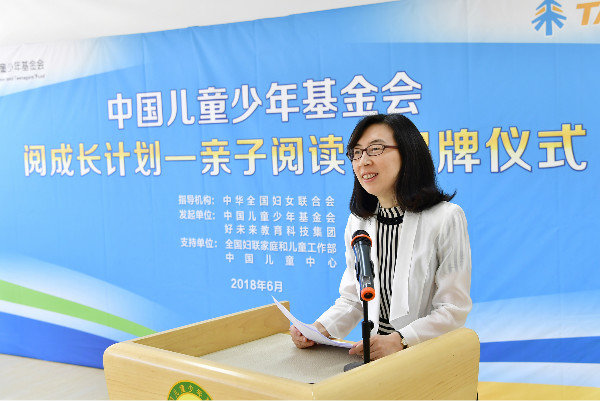 Xu Xu, deputy secretary-general of the CCTF, gives a speech at the gathering. [Women of China / Fan Wenjun]
Participants at the event. [Women of China / Fan Wenjun]
Liu Mingxin, a teacher from the Psychological Research Institute of Chinese Academy of Sciences accepts a letter of appointment. [Women of China / Fan Wenjun]
Liu Mingxin gives a speech at the event. [Women of China / Fan Wenjun]
(Source: Women of China/Translated and edited by Women of China)