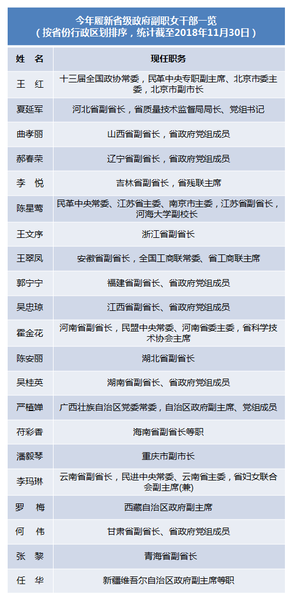 The list of 21 women officials who are serving as deputy officials of provincial governments across the country. [cpcnews.cn]
There are currently 21 women in China serving as deputy head of provincial-level governments across the country, according to the latest figures.
For example, Guo Ningning was appointed vice governor of southeastern China's Fujian Province by the provincial people's congress at its seventh meeting.
This year, female officials were appointed as deputy provincial governors for offices in Beijing, Hebei, Shanxi, Liaoning, Jilin, Jiangsu, Zhejiang, Anhui, Jiangxi, Henan, Hubei, Hunan, Gansu, and Qinghai, among others.
Out of these, one was directly appointed by the central government and four were promoted at inter-provincial level.
Wang Hong, now deputy mayor of Beijing, was directly appointed by the Central Committee of the Communist Party of China. She was previously deputy head of Shijingshan District in Beijing and director-general of Beijing Financial Work Bureau.
In May 2016, Wang was appointed deputy administrator of the Counselors'Office of the State Council and elected deputy mayor of Beijing in January this year.
Qu Xiaoli, vice governor of Shanxi Province, Wu Zhongqiong, vice governor of Jiangxi Province, Wu Guiying, vice governor of Hunan Province and Yan Zhichan, vice chairperson of Guangxi Zhuang Autonomous Region, were among the four who were transferred across provinces.
Yan previously served as member of the Standing Committee and director of the Organization Department of Anhui Provincial Party Committee. In July, she was transferred to be a member of the Standing Committee of the Guangxi Zhuang Autonomous Region Party Committee and served as vice chairperson of the region the same month.
Among the female deputy provincial governors, Yan is the only one who is member of the standing committee of the provincial Party committee.
Xia Yanjun, deputy governor of Hebei Province, Hao Chunrong, deputy governor of Liaoning Province, Li Yue, deputy governor of Jilin Province, and Chen Xingying, deputy governor of Jiangsu Province, and other 11 female officials were elected as provincial government deputies in January.
Among the 15, three have worked as women's federation officials.
(Source: cpcnews.cn/Translated and edited by Women of China)