Most people who've been through it will forgive the excited graduating students at Nanjing University of Information Science & Technology for fidgeting as they listened to speech after speech imploring them to go forth and make their mark on the world.
It took the most unlikely grad-ceremony speaker to get them on their feet. A 60-year-old dormitory attendant had her guest speech interrupted 11 times with enthusiastic, emotional rounds of applause.
Auntie Wu speaks on the graduation ceremony. [globaltimes.com]

Known around the school in Jiangsu Province as the students' favorite ayi or Auntie, Wu Guanghua, has become a campus icon.

For the past decade she's not only been the enforcer of dorm rules, she's also the cajoler of the lazy, mender of broken hearts and confidant to those who need a sympathetic ear.

One of the keys to her likability is her ability to stay current. She's learned her young charges' lingo, how to play digital games and she watches the same TV programs they watch.

Her self-effacing sense of gratitude touched the students deeply.

"I am 60 years old now, but you guys make me feel younger. You guys helped me understand the touching South Korean soap operas; you taught me how to play Plants VS Zombies. Yet, no matter how geili(awesome) the games are, everything is fu yun(floating clouds).

Wu's use of young people's idiomatic Chinese and appropriate expressions of youthful angst got an emotional rise from the assembly.

As her short, 800-word speech ended, tearful students exploded from their chairs, shouting "Auntie Wu, we all love you!" as they unfurled a huge banner with the same message.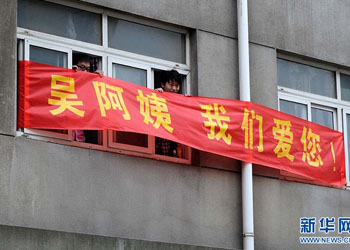 Banner hanging over the dormitory that says "Auntie Wu, We love you!" [xinhuanet.com]
One of the graduating students, Yang Yunzhong, said he'll always remember the mixed emotions he had at the convocation "I feel something has gone from my life, I will surely miss her and remember everything she taught me," he said.
"The reason she is so popular is because she speaks from her heart," Tao Hongkai, an education expert told the Global Times.
"Officials often give long and boring speeches, but hers was simple, direct and touching. It wasn't beautiful but it was meaningful," said Tao, suggesting university educators and officials could learn some communication skills from Wu.