A photo of Tian Shiping [Provided by Tian Shiping to qclz.youth.cn]
Thanks to her decade-long hard work, Tian Shiping, a distinguished professor from the Institute of Botany at the Chinese Academy of Sciences (CAS), has made remarkable achievements in the field of plant pathology and utilized her scientific research to help domestic farmers in their agricultural cultivation.
Study Experiences in her Early Years
Tian was born into a revolutionary family in Youyang Tujia & Miao Autonomous County, southwest China's Chongqing Municipality, in March 1957. Her father, who is from north China's Shanxi Province, followed China's People's Liberation Army (PLA) to fight against the military forces of the Kuomintang or the Chinese Nationalist Party led by Chiang Kai-shek (1887-1975) in southern China during the Liberation War (1945-1949), and built a family in Youyang after the founding of the People's Republic of China (PRC) in October 1949.
Tian went to the countryside and worked with other youths in agricultural activities when she finished her studies in a high school in 1975. Two years later, she took part in the College Entrance Examination, which had been suspended during the Cultural Revolution (1966-1976), and successfully became a college student at Sichuan Agricultural University.
As a matter of fact, Tian initially intended to choose a liberal arts major. Later, she gave up on the idea under her parents' recommendation and planed to study a science major in universities related to national defense. However, her score failed to reach the requirements of her favorite universities and she was enrolled in Sichuan Agricultural University. Only when she entered into her university did she realize the importance of agriculture to a nation and its people.
After her college graduation in 1982, Tian came to the Institute of Fruit Tree Research in the Sichuan Academy of Agricultural Sciences. She submitted an application for overseas studies in 1988 when she wasn't content with her life and research. Three years later, she was finally allowed to continue her academic studies in Italy's University of Bologna after she passed the required tests for linguistic competence in English and Italian.
Tian found the domestic research environment and its level in China lagged far behind that of Italy when she arrived. Therefore, she cherished the opportunity and worked hard in her academic studies. Under the assistance of her academic supervisor, she was granted a full scholarship for four consecutive years and got her doctorate degree in an agricultural major.
Tian found work in the CAS's Institute of Botany and committed herself to the development of China's agricultural science when she returned in May 1997.
Dedicated to Better Serving the Public's Interests with Scientific Research
During her stay in Italy, Tian introduced her scientific research to local enterprises and helped them solve how to better preserve fresh chestnuts. However, to her surprise, those companies didn't invite her or her tutor for dinner, let alone pay for their hard work.
"Tian, please tell me who it is that gives you your scholarship?" her Italian tutor asked her.
Tian replied that her scholarship was awarded by the Italian Government.
"Then please tell me where is the money of the Italian Government from," her academic supervisor questioned closely and added that scientists are responsible for giving their research achievements without any charge to enterprises and help them make more money since only then can they pay more taxes to the government.
"The experience helped me realize that a scientist must have full social responsibilities beyond his or her academic research," Tian often said to others.
Therefore, Tian has allowed enterprises and farmers to freely integrate her patented technologies into their production and agricultural activities until now. Thanks to her efforts, farmers from Liaoning, Shaanxi, Shanxi, Shandong, Sichuan, Inner Mongolia and Ningxia have found a solution to preserve their fruits and vegetables for longer.
She said that it was both her honor and responsibility to do this when she received an award for her achievements in scientific studies several years ago.
Busy Life beyond Scientific Research
In addition to her involvement in academic studies, Tian has been closely engaged in the her students' education for years. Right now, she has helped more than 30 students successfully obtain their doctorate and master degrees.
Meanwhile, Tian has frequently visited college students in their campuses and encouraged them to hold positive attitudes towards their future lives. Moreover, she has tried her best to help women and children in economically underdeveloped regions in Guizhou and Sichuan make improvements to their lives.
So far, she has received many awards, including the National March 8th Red-Banner Pacesetters and Top 10 CAS Female Researchers, in recognition of her scientific achievements and engagement in charity affairs for years.
Tian Shiping poses for a photo when she receives the National March 8th Red-Banner Pacesetters in March 2015 in Beijing. [Provided by Tian Shiping to qclz.youth.cn]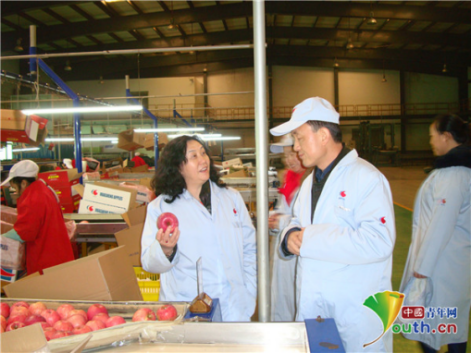 Tian Shiping (L2) speaks with others about how to better preserve tomatoes. [Provided by Tian Shiping to qclz.youth.cn]
(Source: qclz.youth.cn/Translated and edited by Women of China)