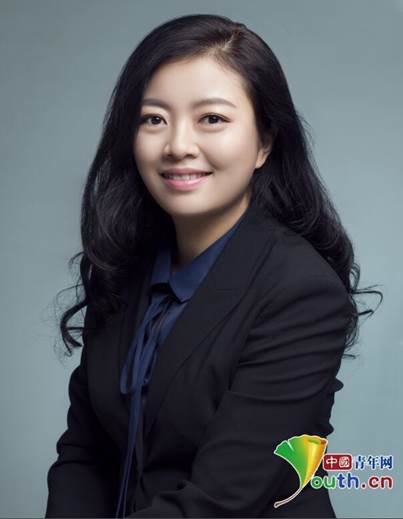 Li Zan [Youth.cn]
There is no easy path for scientific research, but that would not stop Li Zan from reaching her goal in the course of developing safe and reliable means of communication over the past 15 years.
Li, 42, from the city of Xi'an in northwest China's Shaanxi Province is a professor at Xidian University School of Telecommunications Engineering.
She is also senior researcher and director of the Communications Signal Processing Research Center of the State Key Laboratory of Integrated Services Network, a high-level Chinese sci-tech organization.
So far Li has led and completed 28 major research studies bringing about continuous breakthroughs in her field.
Loneliness on Early Research Road
Smart and hardworking, Li cruised through her school years smoothly. Her outstanding academic performance exempted her from needing entrance exams to get into Xidian University undergraduate program in 1994, and she went on to do a master's and doctoral study there in 1998 and 2000, respectively.
After she gained her master degree in 2001, she became a teacher at the institution where she has so far remained for 23 years.
Li began to engage in scientific research in 1998 and participated in a state-level project under the tutorship of a professor surnamed Jin the next year.
"After my professor retired he entrusted the research direction of the project to me," she said, adding that the early difficulties she met are still fresh in her memories.
"There was neither research funding, nor room or students," she recalled. "I promised the school leaders I would undertake the project but they must provide me with a venue."
Finally the university allocated some funds and a classroom. "To save money, I borrowed some disused ping-pong tables from our school's physical education department to use," she added.
As her project moved on, Li found herself in another financial predicament. "I borrowed another 300,000 yuan (U.S.$ 43,500) from my school, and paid it back after the project was completed," she stated.
Without a research partner, she persuaded her fellow younger student, who wanted to stay at the university after graduation, to join her project. "I then told him: 'You work with me, and we will certainly do it well,'" she recalled.
In 2004 after she was promoted as an associate professor, Li had her own students.
"At that time, they came to me and said they chose me as their tutor," she said. "I told them I was young but I would sure lead them."
To make their project run smoothly, Li and her students often stayed up late. "Our office building usually closed at midnight. We were often the last ones to leave and had to call the guard to open the gate for us," she said.
"Young teachers usually find scientific research quite difficult in the beginning. But as long as they persist, they will go forward," she added.
Combining Scientific Research and Practical Application
In 2015 Li was awarded the L'Oréal-UNESCO Women in Science China Award for the design of a meteoric trail communications system, an achievement filling a gap in China's communications field.
"This system was the first project I did after I became a teacher and marked the beginning of my scientific research work," she said.
Based on her own research results and those of older generation experts, she wrote Theories and Applications of Meteoric Trail Communications.
Li said that the honors granted to her provided her with a new platform thanks to which she met many other outstanding scientific workers from different fields such as those in aerospace, environment and material engineering.
"I established contact and communicated with them to learn the different demands of their industries and combine my own research with these needs," she said. "Lab work is important but its combination with practical application matters more."
Other young talents often organize activities which offer Li opportunities to visit an aerospace research center and an artillery base and learn about environment, treatment and control, among others.
"We carry out two activities per year. In addition to visiting the research field of the organizers, we also present reports to promote understanding of each other's disciplines," she said.
Moreover, the honors awarded to her also secure her membership to some research organizations like the China Association for Women Scientists (CAWS).
"I broadened my vision and extended my research direction by taking part in these organizations' activities," she said.
Li explained that CAWS also regularly organizes experts and researchers to spread scientific knowledge of different fields in schools of poverty-stricken regions.
"This activity is quite meaningful for me. It gave me a kind of mental satisfaction that couldn't be gained through a big award or finishing an important paper," she added.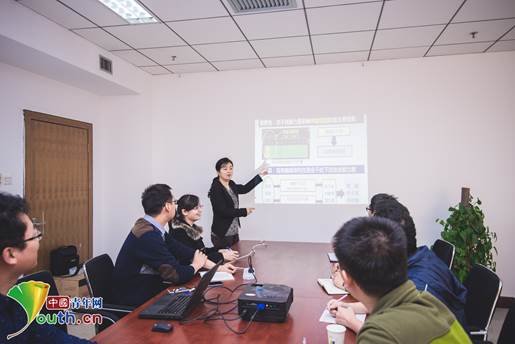 Li Zan (back) and her colleagues [Youth.cn]
Li Zan (L2) and her students carrying out an experiment [Youth.cn]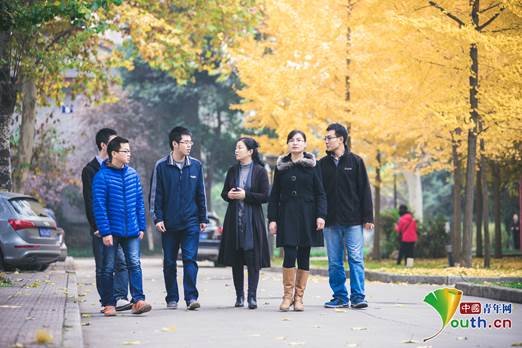 Li Zan (C) and her students [Youth.cn]
Li Zan (R) and her students carrying out an experiment [Youth.cn]
(Source: Youth.cn/Translated and edited by Women of China)