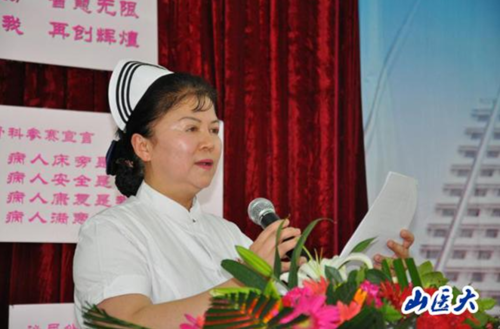 Yang Hui [China Women's News]
Yang Hui, 57, was awarded the Florence Nightingale Medal recently by the International Committee of the Red Cross for her exceptional dedication to her work.
The introduction given to her by the International Committee of the Red Cross was: Active in disaster situations and in the areas of public health and nursing education.
The Florence Nightingale Medal, introduced in 1912, is the highest international honor for nurses.
Yang studied nursing at Fenyang College of Shanxi Medical University and graduated in 1991.
Seven years later, she received her bachelor's degree from Changzhi Medical College in the province.
Yang furthered her studies of Maternal, Child and Adolescent Health at Shanxi Medical University and got her master's degree in 2004.
In addition, she had two study tours in George Mason University in the U.S. as a visiting scholar.
As the vice-president of the First Hospital of Shanxi Medical University, she worked as a nurse for 38 years, during which time she has always treated her patients as her family members.
In 2003, severe acute respiratory syndrome (SARS) swept across China. Shanxi Province was one of the most grievously affected regions.
The hospital she works for was assigned to cure the fatal disease.
Regardless of the high risk and fear of death, Yang and her co-workers unremittingly treated severely ill patients, feeding them food, helping them bath and dress.
Yang said the most challenging thing for her was how to comfort patients when they had witnessed their roommates' death.
She worked while learning how to help and communicate with her patients in an effective way.
After 87 days of persistence, the war against SARS was won and Yang published her research on SARS patients' stress reactions and her effectiveness evaluation of the nurses' intervention.
Her book has provided a good reference for future treatment in similar situations.
In 2012, after being elected as the chairperson of the Shanxi Nursing Association, she established 29 professional committees and four study groups to boost academic exchange.
Yang also volunteered to give lectures on weekends for those who have no education and training opportunities in remote areas.
Last year, Yang was elected as the doctoral supervisor of Shanxi Medical University.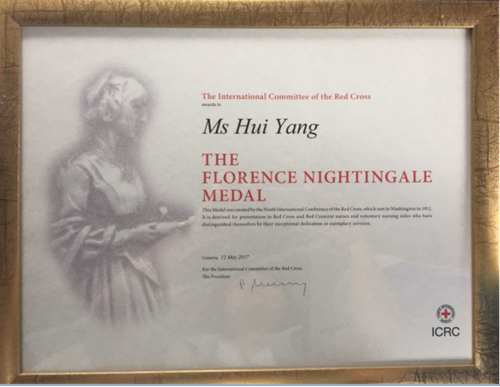 The Florence Nightingale Medal for Yang Hui [China Women's News]
(Source: China Women's News/Translated and edited by Women of China)