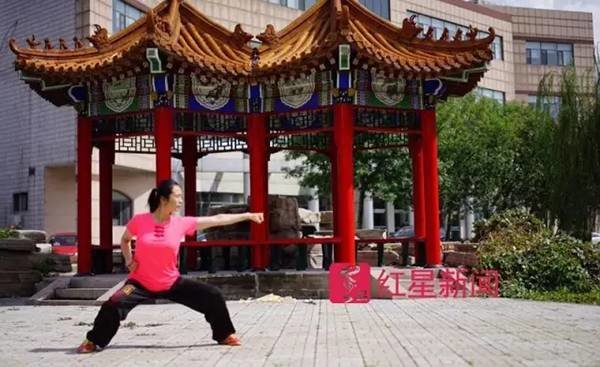 Huo Jinghong practices her family martial art. [hongxingxinwen.com]
In comparison with the promotion of her family's martial arts, it becomes less important for Huo Jinghong, a descendant of legendary Chinese figure Huo Yuanjia (1868-1910) in the sector, to claim a title at the National Games.
Huo Yuanjia has been remembered by Chinese people for his defeat of aggressive foreign fighters in highly publicized bouts at a time when the nation's sovereignty and territorial integrity were incomplete.
Huo Jinghong, 40, said she is the only one from the fifth generation of Huo Yuanjia that has continued to practice martial arts. Her family has tried to downplay their connection with it ever since her grandfather.
To help her brother improve his physical health and ensure he did not feel lonely, Huo Jinghong was allowed by her father to learn martial arts with brother when she was five. After a while, she proved herself to be a natural while her brother failed to stick at it.
Huo Jinghong chose to be a teacher for the discipline of martial arts at Tianjin University of Commerce when she graduated from Beijing Sports University in 2000.
It wasn't until two years ago that Huo Jinghong began to learn her family's martial art and thus became its only legal inheriitor. Before that, few people knew her actual identity.
Huo Jinghong has tried her utmost to make necessary adjustments to her family's martial art and emphasize its usefulness in protecting against current social circumstances during the past two years.
Huo Jinghong took the gold medal at the Fitness Qigong group competition, which was part of the amateur events at the recently concluded 13th Chinese National Games held in north China's Tianjin.
Right now, she has wasted no time in revising the movements of her family's martial art and furthering its popularity amongst the public.
(Source: chinadaily.com.cn/Translated and edited by Women of China)