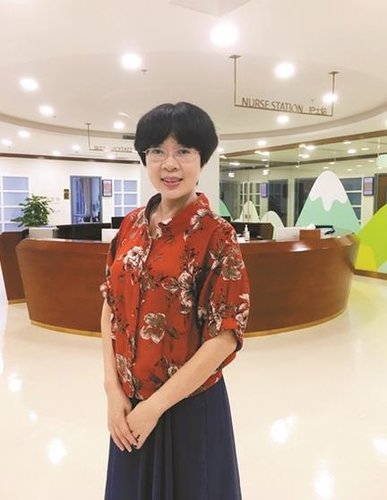 Guo Luping [Shenzhen Daily]
When discussing her disease, Guo Luping avoids saying the word "cancer" and talks in a light-hearted tone as if it were just a minor ailment.
Guo is a 41-year-old obstetrician from Jiangxi and one of the winners of this year's Bethune Award — a top honor for medical workers in China. Guo joined a medical aid team going to Tunisia in late 2014, but she was diagnosed with breast cancer in early 2016.
Guo talked about her experience in Tunisia on Friday at the Vista-SK International Medical Center in Shenzhen. She was recruited as the spokeswoman of the center's overseas infirmaries for Chinese enterprises in foreign countries.
In November 2015, Guo started her service at a hospital near the Sahara Desert in Tunisia. "The mortality of mothers and newborns was high because the hospital was understaffed with outdated facilities and insufficient resources," she said.
During her 14-month stay in Tunisia, Guo performed 496 operations. Her medical skills and hard-working attitude impressed many of her local colleagues.
On April 20, 2015, a pregnant woman was brought to the hospital with most of her umbilical cord prolapsed, meaning that her baby might have died in a few minutes if she hadn't undergone an operation.
However, the only operating room in the hospital's gynecology and obstetrics department was occupied. Guo decided to perform the operation in a surgical operating room to save the woman and her baby. As the nurse in the surgical operating room wasn't trained for assisting a C-section, Guo had to do all the work by herself. She finished the operation in 20 minutes, and both the mother and her newborn were safe.
In July 2015, Guo felt swelling and pain in the left side of her chest, but she insisted on fulfilling her duty. When she returned to China in January last year, she was diagnosed with middle to advanced stage breast cancer.
"The doctors told me that if I had returned to China three months earlier, my condition would have been much better," she said. Guo recovered well after receiving medical treatment last year.
According to Xinhua, China has sent over 24,000 medical workers to 66 countries and regions since 1963.
(Source: Shenzhen Daily)