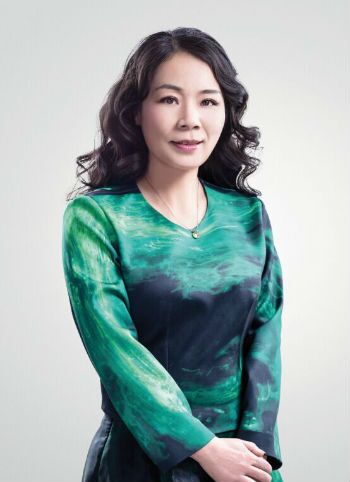 Liao Hong [fafu.edu.cn]
Chinese female scientist Liao Hong has contributed years of efforts in improving the quality of soil by promoting crop rotation techniques, especially in regard to growing kidney beans.
Her latest project is carried out in the county of Anxi, southeast China's Fujian Province, and her lab is at a biological research center at Fujian Agricultural and Forestry University. The area is famous for producing a particular type of tea called tieguanyin.
Liao wanted to teach villagers scientific ways to carry out on-land cultivation and encourage them to decrease the use of pesticides or herbicides which could lead to barren earth.
Many local students were also curious about Liao's project which uses alternative planting between tea and beans to improve soil conditions and further produce quality products.
Liao describes herself with the characteristics of stamina and beauty. She often works long hours in outdoor research and dresses elegantly during her leisure time.
"I regard every outdoor task as a trip into the field, which is always much more interesting than office work," she said.
The scientist says her continuous passion for plants could date back to childhood experiences during which time her father instructed the young girl about nature.
"As a member of the Communist Party of China (CPC), I want to apply paper-based research results on the land and benefit villagers with advanced scientific progress," said Liao, who was a delegate to the 19th CPC National Congress which was held in Beijing from October 18-24.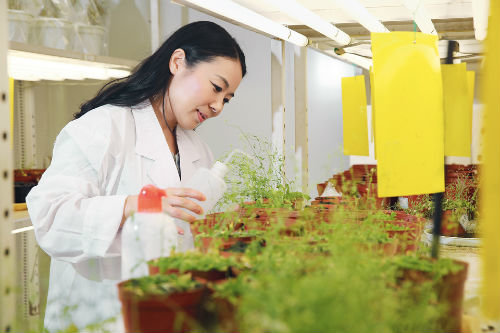 Liao Hong takes care of plants in her lab. [womenofchina.com]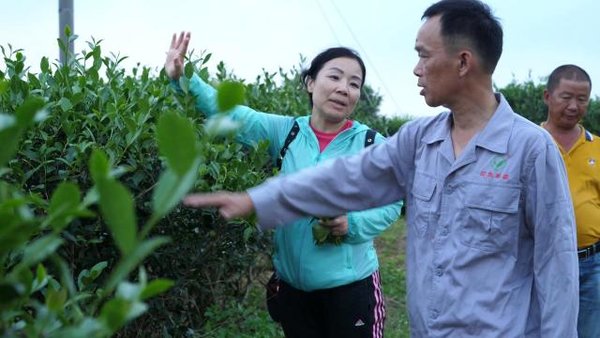 Liao Hong explains scientific ways of cultivation crops with a villager. [news.cnr.cn]
(Source: Xinhua/Translated and edited by Women of China)