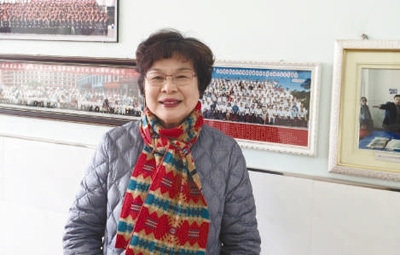 Chen Haizhu [People's Daily]
A Chinese American and her husband have both dedicated themselves to improving the education of rural children in north China's Shanxi Province over the past 18 years.
Chen Haizhu now serves as president of Bo'ai School in Feng Village of the province's Qinyuan County.
In 1999, she and her husband gave up high-paid jobs and good living conditions in Portland, the U.S., and move to Qinyuan to do charity work.
"This place needed me more!" Chen said.
"I hoped I could provide rural children with a safe and happy growing environment, and let them understand how to love the country, society, their parents and themselves.
The couple and several overseas organizations co-invested in the building of Boai School in 2005.
When asked why she went to Shanxi in particular, Chen said she once met an elderly doctor surnamed Qiu from the province who went to the U.S. to visit his daughter.
During a chat, Qiu talked about his hometown, hoping the public-spirited Chen could do something for the region.
"I will go wherever I am needed," she said.
"If you really want to help, you should go to my village," Qiu suggested.
Cui Jian'gang, director of the education office of the county's Fazhong Town, still remembers how Chen renovated several dormitories and toilets at local schools upon her arrival, whilst also seeking donations.
Her investment into local education gradually grew to nearly 10 million yuan (U.S.$ 1.52 million). In 2011, she even sold her property in Beijing to raise money for the building of a high school.
"Although I lost my home in Beijing, I could still live in a hotel or at my friends' house," she said.
"I used to be an ordinary housewife. But after I came here, I felt this place indeed needs me. Here, I live happily every day."
During her spare time, Chen likes climbing mountains.
"Doing charity is the same as climbing. When a person does it first, more people will catch up. I just made a start," she explained.
Now, at least 300 volunteers visit the school to be teachers every year, and many come from abroad.
Children at Chen's school also have a loving heart. They serve at local nursing homes for elderly people every month. The school also organized a charity sale, raising money for the purchase of 15 WCs for elderly people in nearby villages.
Chen's husband is a doctor. In the past decade, he gave all his income to Chen to support her charity cause. Her children also transfer part of their salaries to her.
"They are kind. Every month, they contribute 10 percent of their earnings to charity," Chen added.
Being away from home in the past 18 years, Chen said she owed a lot to her family.
"I am the oldest child, but now my parents totally depend on my six siblings to look after them," she said, tears streaming down her eyes.
This year, Chen had a special gift for her family – two thick photo albums which contain family pictures of every teacher in the school.
"Taking the albums home is just like bringing back a group of relatives and friends. They record my stories here," she said.
"I feel thankful for meeting such a beautiful place. I have fulfilled a dream here – my own Chinese Dream."
(Source: People's Daily/Translated and edited by Women of China)