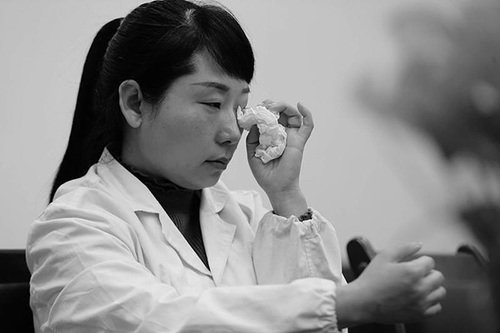 Liu Linjuan [sanqin.com]
A female coordinator of the organ donation department at a large hospital in northwest China's Shaanxi Province recently shared with journalists about her life-saving work.
Liu Linjuan from the city of Xi'an works at the No.1 Affiliated Hospital of Xi'an Jiaotong University.
China launched its pilot organ donation scheme in March 2010, and Shaanxi became a pilot province just four months later, she explained.
In the past six years, over 400 organ donations have taken place in the region, giving new hope to over 1,000 patients.
Misunderstanding
In 2012, Liu – then a nurse – switched department to take on her untried role.
Having worked as a nurse for many years, Liu understood the great urgency of organ donation.
"I have seen many patients in ICU (intensive care unit), including young people, who were waiting for matching organs. Some died whilst doing so," she said.
However, Liu felt anxious when she first took up the job.
"Life and death are big matters. When communicating with family members of potential donors, you will violate many taboos," she added.
In fact, relatives' misunderstanding mainly comes from the sadness of losing their beloved ones, their conservative ideas and their suspicion over coordinators' intensions.
Liu recalled the first potential donor she met was a young man who was on the brink of death due to carbon monoxide poisoning.
On hearing the word "donation", the man's family members instantly surrounded Liu. "Our communication ended in failure," she said.
After the man died, his relatives proposed to donate his organs. However, it was too late for transplant then.
"Organs must be taken from the remains before the blood stops circulating, or they cannot be used," Liu explained.
Professionalism
Liu explained that organ donations must take place after a donor's death and before organ failure. In addition to finding potential donors, coordinators also evaluate their bodies before operations and help donors' family members go through various procedures.
"To become a qualified coordinator, you need to go through strict recruitment procedures," she said.
"Medical graduates must have over two years' work experience to apply for the job. After passing qualification assessment, applicants will take pre-job training, study professional expertise and communication skills, and undergo simulations."
Since 2010, with enhanced training and assessment, coordinators of organ donation in the country have steadily increased their professionalism.
Liu makes three to five trips on average for each donation. To bring about more donations, she acts as "a listener" first, gradually turning the topic of conversation to organ donation after gaining the trust of donors' relatives.
"For family members of donors, the motivation for organ donation may originate in their love for the deceased, and their wish to continue the donors' life in another way," she said.
"Organ donation is a reasonable and legitimate cause of public welfare. It reflects human's real nature of being simple and benevolent, and reflects their love and warmth."
Transformation of Concepts
In the past five years, coordinators like Liu have witnessed and advanced the transformation of local people's concepts on organ donation.
Liu has communicated with family members of over 300 critically ill patients, and about 30 percent have shown willingness to donate.
"Public acceptability of organ donation has increased many times over. At the beginning, we were often turned down by patients' relatives. But now, I receive calls about donating organs every week," she said.
To push forward their work, medical workers are supposed to make more efforts to help correct prejudices among the public and to make more people truly learn about the public welfare cause, Liu said.
"Organ donation is a voluntary and lofty undertaking. As a citizen with a loving heart, it is a great comfort for one to give back to society with his/herlast valuable possession," she said.
(Source: sanqin.com/Translated and edited by Women of China)