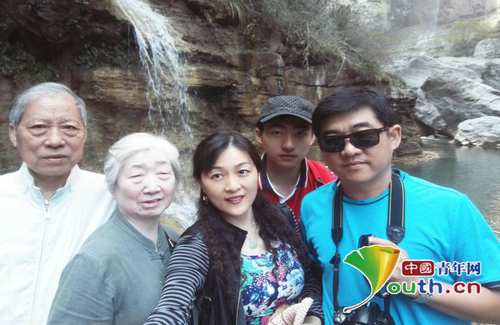 Hao Ping (C) and her family [Provided by Hao Ping to China Youth Daily]
Hao Ping is a Beijing-based lawyer. After leaving the army nine years ago, she established an agency to specialize in civil disputes involving soldiers and members of the public.
She has actively dedicated herself to the cause since day one, and has settled numerous cases over the years.
She strives to solve each of her legal cases peacefully and provide services for everyone concerned during the process.
Hao and her husband graduated from the same military institute, and fell in love soon after.
Hao has been a staunch supporter of her husband, who still works in the military.
"It is my privilege to be the wife of a service member in the Chinese People's Liberation Army (PLA)," Hao says.
Since Hao's husband is often absent from home for long periods of time, Hao has had to work extra hard to balance her efforts in raising her teenage son, attending to both her elderly parents-in-law, and excelling in daily work.
She still remembers the difficulties she had in nursing her son by herself when he was a baby. At that time, her husband was dispatched to Beijing for a new mission.
Hao encouraged her husband to play with their son when he came back once or twice a year, with the aim of deepening the ties between them and offsetting the negative effect of paternal absence.
During a recent interview, Hao said that one time she accidentally bumped into her husband when he was on a mission, but restrained her emotions and bravely kept her distance.
Hao has won many awards and titles in the past years for her outstanding performance in protecting clients' rights and interests. She was selected as a role model recently at the final of a nationwide campaign to find the most inspiring wives of PLA service members.
Hao Ping (L) talks with a client in her office. [China Youth Daily]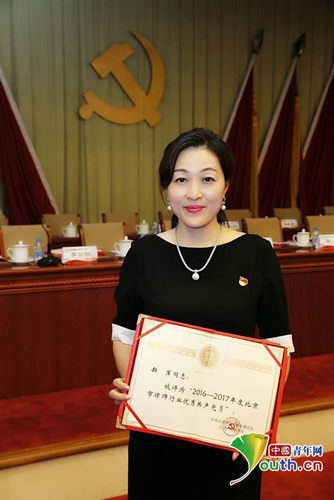 Hao Ping shows a certificate she received as a model member of the Communist Party of China given to lawyers in Beijing. [China Youth Daily]
(Source: China Youth Daily/Translated and edited by Women of China)