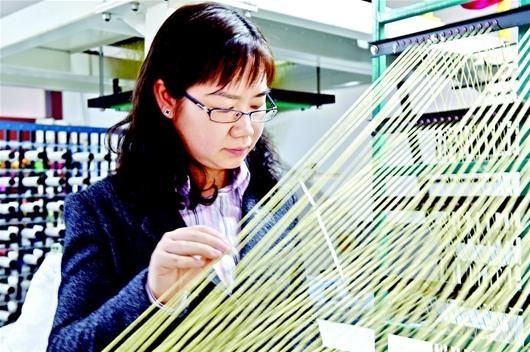 Yang Dan adjusts the bulletproof fabric in the loom. [People.cn]
A female teacher at a university has created new and comfortable body armor for women after graduating from Manchester as a textile designer.
Yang Dan, 35-years-old, is a female teacher at Wuhan Textile University. Her achievements in her career are legendary, as well as her learning process.
Yang was a native of Changzhou, East China's Jiangsu Province, whose parents all worked in textile factories.
"My father's factory was doing business with big foreign factories when I was young. The interpreter my father invited to work for him robbed a big order from our company," she said.
Perhaps because of this experience, the importance of English was imprinted in her mind.
Coupled with a love for writing, she chose the liberal arts in high school, and then was admitted to the comparative literature major at Capital Normal University (CNU) in Beijing.
Yang often got up at 6:00 a.m. to practice English and studied until 11:00 p.m. at night.
With excellent undergraduate and GRE scores, she applied for a textile major at the University of Manchester in Britain, when she graduated from CNU. Surprisingly, she was admitted.
Yang encountered many difficulties when she arrived on campus at the beginning, but she overcame them all through her own efforts.
She recorded the lessons and played them back at night when she could not understand the English professors.
She made friends with the students who did well in class, especially when she found many mathematical formulas beyond her understanding.
The college library, which was open 24 hours a day, became her base for learning.
Thanks to all her efforts, Yang finally graduated with first class honours.
Chen Xiaogang, an expert in international three-dimensional textiles, appreciated her work and invited her to join his team to make three-dimensional high-performance bulletproof materials; so Dr Yang returned China after her graduation in 2011.
However, beyond her tutor's expectation, she returned to her hometown to work on making bulletproof products instead of working in a college or research institute.
Actually, she had begun to work in the international textile trade business when she was in the UK and earned her first bucket of gold, a net profit of 500,000 yuan, when she was 25.
In just a few years, Yang's company entered the international market with military police equipments, such as bulletproof products, with its revenues exceeding 20 million yuan.
Soon, the successful female entrepreneur crossed the border again. She left her hometown and went to teach at Wuhan Textile University in 2016.
"I missed college and wanted to do research," she explained.
Now, Yang is studying "3D body armor with 3D materials."
"I want to make a real 'soft hedgehog' which can suit the body well and is comfortable to wear, instead of the traditional 2D body armor which affects mobility and efficiency due to its hardness and rigidness."
She said that the integrated 3D body armor is expected to be rolled out in a year or two.
"It will be more comfortable with an increased performance of 20 percent in its bulletproof qualities."
Why has she tried to make women's body armor?
"It is more difficult to make 3D body armor with high adaptability for women, because female bodies are curvier. So if I can make quality female body armor, men's is nothing." Yang said with a smile.
(Source: People.cn/Translated and edited by Women of China)