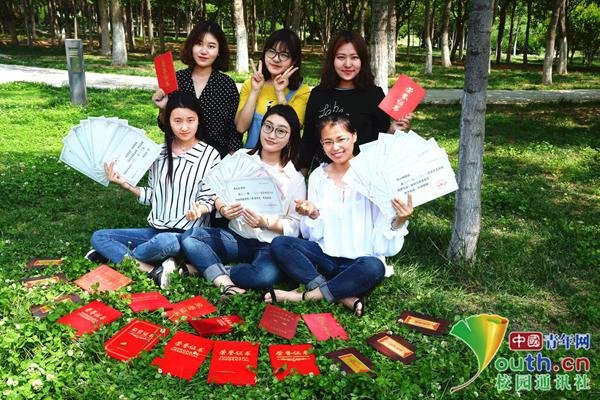 The students take a photo with their certificates on the grassland. [Youth.cn]
Five students have succeeded in their postgraduate entrance exam, and one has gained a postgraduate recommendation, in a student dormitory in Jinan University, east China's Shandong Province.
They have been receiving good grades in school and ranked among the top seven in their class over the past four years of study.
Jiao Xinmeng is the student who gained the postgraduate recommendation.
"I like reading and recording my inspirations, thoughts and feelings," she said.
In order to develop the good habit of doing exercise and keeping fit, she goes to the gym two or three times a week. She also likes to watch movies and listen to music when she has free time.
"I felt so lucky to gain this opportunity, because only two such recommendations are available in our school in this fierce competition," she said.
Jiao passed the CET Grand Six in the second half of her sophomore year and received a 6.5 in the International English Language Testing System (IELTS) in her second half of junior years.
"What we've learned cannot help us independently resolve practical problems in the project, so I hope to further improve my professional skills through study in the graduate period," she claimed.
Luan Jiajia has been admitted to Jinan University as number two in the secondary examination.
She prepared for the graduate examination in the summer of her junior year.
"Five of us signed up for a tutorial class in which online courses can be watched and repeated as many times as we like if we don't understand," she said.
Liang Wenzheng received an offer from Lanzhou Jiao Tong University. She selected her proper school in October in her junior year and prepared for the exam in the winter holidays of the same year.
Liang has a lot of hobbies, including singing, hip-hop, travel, and hanging out with friends.
Liao Xiaoling has been admitted to Guangzhou University.
"As we are all interested in learning and always rank top of the class, we both decided to continue to pursue a master's degree," she said.
Gao Xinyu has passed the entrance examination of Shandong University of Architecture and Engineering.
"I went to the library almost everyday and would sing KTV or do exercise in the gym when I was stressed at that time," she said.
Ma Jing is the only one who didn't choose to enroll in a tutorial class. She passed the entrance examination for Qingdao University of Technology.
She bore a lot of pressure after pre-application for her target school and finally recovered from the negative situation after an adjustment at home.
"I beat down my fear of the unknown after this experience," she said happily.
When talking about their plans after graduation, Liu said that she will hunt for a job and Jiao will try to find an opportunity to be an exchange student. The other four plan to continue to pursue a doctorate degree if possible.
The students pose on campus. [Youth.cn]
(Source: Youth.cn/ Translated and edited by Women of China)