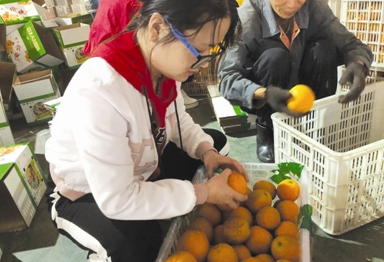 Wang Mengjie picks oranges to package. [zy.cnhubei.com]
A caring student at China Three Gorges University has opened a shop on the popular social media platform WeChat to sell oranges and help raise money for her father's costly hospital treatment.
Wang Mengjie comes from Guojiaba Town in central China's Hubei Province. She took on the family burden after her father became paralyzed.
The cost of her father's initial treatment was 160,000 yuan, which exhausted all of her family's savings.
With the follow-up treatment coming up, Wang decided to ask the media for help to sell 10,000 kilograms of oranges that she had grown on her own farm.
News of the initiative to "sell oranges to save my father" subsequently spread throughout the city of Yichang in Hubei.
Many official accounts at Wang's university reposted her story, and her difficult situation aroused teachers and students' special attention.
The number of Wang's WeChat friends soared from 300 to nearly 2,000 in the first two days after the media reports.
Those friends began to buy her oranges and many locals even transferred donations directly.
In order to provide more convenient services for customers, she opened a WeChat shop with the help of her classmates to deal with the huge number of orders.
Wang's oranges were scheduled to be harvested two days later. With the help of zealous neighbors, all of her oranges was finally packaged and delivered in just one week.
"I feel grateful to people for helping me when I was in trouble," Wang said. She has vowed never to give up on finding a cure for her father.
(Source: Women Voice/ Translated and edited by Women of China)