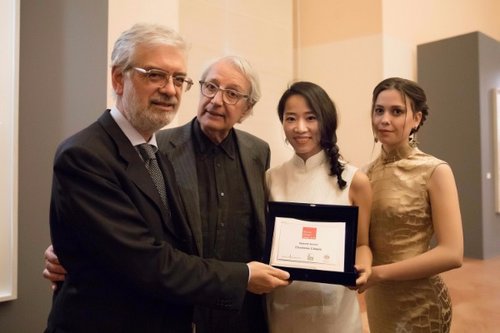 Charlene Li Xiaoling (second from right) gets the Special Excellence Award from Milan Culture Minister Claudio Salsi (first from left) and Chairman of the Jury of Milan Design Week Davide Rampello. [China Daily]
By winning a Milan Design Week award, homegrown jewelry brand, Charlene Classic, is raising the profile of Chinese jewelry on the international stage.
Chinese jewelry brand, Charlene Classic, enjoyed the limelight during last month's Milan Design Week in Italy, where it exhibited a special collection at the Castel Sforzesco and won a "Special Excellence Award."
Chairman of the jury, Davide Rampello, complimented the brand on its expression of Chinese culture and aesthetics, as well as its advances in the modernization of artistic traditions.
"We are delighted to find out that China's younger generation has such a profound understanding of culture and art, hence we have more reasons to have high hopes for China's future," he says.
Comprising four pieces of jewelry with two different themes, Airs of Virtue and Plumage, the special collection was originally created to be exhibited at the Palace Museum, the biggest museum of ancient culture and art in Beijing, at the end of last year. The collection was inspired by exhibit of ancient fans, also housed at the museum.
Airs of Virtue, for instance, is a nod to the etymology of the folding fan, and the earrings have adopted the shape of one, while the pattern and colors take their cues from the traditions of Chinese landscape painting and plum blossom, which is the Chinese national flower.
Plumage, perhaps unsurprisingly, takes its cues from the peacock feather fan and its 2,000 years of history.
However, rather than simply replicating the shape of a feather fan, designers studied a large number of ancient Chinese paintings in order to reveal the lightness and charm of the feather, from the beauty and lines of each barb, vane and rachis, to the overall structure.
Sitting in the living room of her studio in Beijing, Charlene Li Xiaoling, the founder of Charlene Classic, points at the meticulous Chinese painting and the Western oil painting hanging on opposite walls.
She talks about her understanding of the two different styles, "Oil painting is formed by thick strokes and swatches with strong visual impact, while Chinese painting requires a more detailed grasp of lines." An ethos that has helped shape her jewelry brand and its relative success.
Established in 2013, Li confesses that Charlene Classic did not really have a clear direction until around 2016, and when it did finally happen, it was not consciously, but she was simply following her instinct and aesthetic appreciation.
One day, a foreign friend paid her a visit and she showed him some of the design works and he instantly recognized them, with their unique shape and style, as "something Chinese."
Li says, "At that moment, I realized that an appreciation for design or aesthetics is not developed within a day or two, but it is built up by every aspect of our personal experience, including one's education and cultural background. And it lives in one's bones and blood."
With this new direction to follow, the design team studied artistic conception of paintings from Song Dynasty (960-1279), and the resultant collection, Forever Four Seasons, which expressed the connection between humans and nature, was exhibited in the Grand Hall during the 2016 Hong Kong International Jewelry Show.
"I want to popularize Chinese traditional culture, not by reconditioning old objects, but to create something new and add a contemporary aesthetic," Li explains.
Before she established Charlene Classic, Li was working for a French bank after graduating as a finance student from Peking University.
While the job paid her a high salary, she was not satisfied with the monotony of life and the idea of creating fine jewelry started to gestate, harking back to her childhood playing among the stones in Fujian province.
"When I was a kid, if I was scolded or upset, I used to hide myself in the gaps of huge stones nearby where I grew up," Li explains. "Now, as an adult, it's the smaller stones (gems) that give me comfort - they are my way to relax when I feel stressed.
"No matter what their size, stones calm me down and make me feel secure," she continued, "I consider it my connection to nature."
Li feels strong sense of achievement and satisfaction running her jewelry business. "The gem is the masterpiece of nature, but the process of turning a gem into a piece of jewelry makes people marvel at the ingenuity, imagination and skills of a person."
Li laments that she believes there is still some prejudice against Chinese jewelry brand, on both a national and international level, but it has not dented her faith or belief that she is pursuing the right course.
She observes that, perhaps due to the lack of Chinese fine jewelry brands in the past, local customers still associate Chinese jewelry with the jade rings that are popular among the older generation and, as a result, famous international jewelry brands have a stronger pull with younger buyers. At the same time, it's very hard for Chinese jewelry brands to knock on the door of the international market because of a reputation for cheap products and mediocre design.
"The benefit of that is that people are genuinely surprised when they see our products," Li notes, proudly. "I believe it's only a matter of time before people start to change the opinion about Chinese jewelry."
Airs of Virtue - Landscape emerald earrings. [China Daily]
Airs of Virtue-plum blossom earrings. [China Daily]
Plumage-propitious twig earrings. [China Daily]
(Source: China Daily)