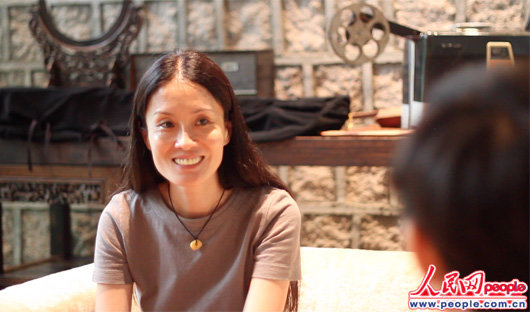 Wang Qiuyang gives an interview. [People.com.cn]
Wang Qiuyang, founder of the Apple Charity Foundation, recently spoke to journalists about her extensive experience of contributing to the development of Ngari Prefecture in southwest China's Tibet Autonomous Region.
Wang originally launched the foundation in 2003. It is active in different fields such as healthcare, culture and environmental protection.
"Before, we paid much attention to teaching, and now it has been incorporated into compulsory education. So, I transformed my focus to other fields," Wang said.
"Meanwhile, my philosophy on commonwealth and charity has also changed. Apart from persistence and enthusiasm, I also have to clarify the plan, utilize the social resources, and cooperate with relevant government departments."
Furthermore, her own identity has changed from business investor and mountaineer to charity organizer.
She said: "To be honest, I have little interest in management. I just have the sense responsibility, rather than love. My adventure activities are also receding with age, too."
Wang began her career in public-welfare charity after an unusual journey to Tibet in 2003, when the SARS epidemics broke out around the country.
She went as an investor for the film Song of Tibet, which was directed by Xie Fei.
However, she was just a tourist at that time. Now, she regards Tibet as her "second home."
"I just wanted to relax during the special days and I never expected the experience could contribute to my public-welfare project," Wang recalled.
Moreover, Wang visited a shabby school in the mountain of Baga Village, which was temporarily housing residents from a nearby township. The students only had a quilt to sleep on during their lunch break.  
After returning back to Beijing, Wang established the Apple Charity Foundation, and provided assistance for four schools' construction, with the support from the local military department and the Education Bureau of Ngari Prefecture.
In order to better help children, Wang and her husband also donated 10 million yuan for the construction, which was a large sum for their company at that time and the local government as well.
Furthermore, the backward local medical conditions also had a negative impact on health. Non-serious conditions could even develop into fatal illness.
Wang decided to arrange a medical project, named Barefoot Doctors. Meanwhile, the Apple Charity Foundation cooperated with the local Sanitary Bureau to select medical personnel and provided them with professional training, medical instruments, and extra allowances for living expenses.
The project was awarded as the Most Influential Charitable Project in 2018 by the Ministry of Civil Affairs, and Wang Qiuyang also won the honor of Ten-Most Influential Philanthropist in 2010.

In 2005, when she was on her way to attend the opening ceremony of the Apple School, she found many Buddhist Caves and Guge civilization relics were badly damaged due to lack of protection.
So, Wang decided to establish a Tibetan culture museum and invited famous architect Wang Hui to choose the location and take charge of the design.
Luckily, the local government also implemented protective measures in 2011 to protect relics of the Guge dynasty (c.900-1700) including murals.
Since then, the Apple Charity Foundation has extended its work into the city's and regional planning as well as environmental protection.
This year, the foundation transformed from a private to public funding organization.

"My original aspiration has not changed. Now, we have more professional teams to manage relevant affairs," Wang added.
(Source: escn.cn/Translatedand edited by Women of China)