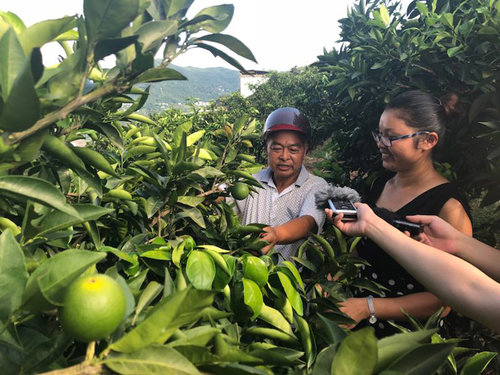 Ran Xiaoli (right), 37, an orange farmer and director of Huolong community, Yunyang county, in Southwest China's Chongqing, instructs local farmers on orange planting on July 26, 2018. [China Daily/Tan Yingzi]
In order to protect the ecosystem of the Yangtze River, farmers living on the banks have begun to largely reduce the use of chemicals and adapt to biological pest control methods.
Ran Xiaoli's navel orange garden on the south bank of the river is a good example.
In addition to insect-trapping balls, solar-powered lamps and sticky cards, a special type of mite is used to kill pests.
A predacious mite, as tiny as a grain of sesame, can eat a red spider two or three times bigger than its size. A bag of 1,500 mites can kill all the pests on a citrus tree.
Ran, 37, is an orange farmer and director of Huolong community, Yunyang county, in Southwest China's Chongqing.
In 2005, she was the first one in her community to plant orange trees and promoted the idea of green agriculture.
In the past, most fields here were abandoned as young farmers had left and worked in the cities. Left-behind senior farmers grew traditional crops, such as corn and rice. Some also planted peach and plum trees.
"Different crops and fruit trees need different types of pesticide and fertilizer," Ran said. "The total amount of the chemicals used by the farmers was huge which severely damaged the soil and water."
After some research, she decided to grow oranges and use as less chemicals as possible. Her success has encouraged many in the community and now about 80 percent of the farmers plant orange trees.
"In the past, we spread pesticide five times a year," she said. "Now we use it only once or twice a year."
The world's third-longest river, the Yangtze runs for 6,300 kilometers from the glaciers of the Qinghai-Tibet Plateau eastward through Chongqing, Wuhan and Nanjing before reaching the East China Sea at Shanghai
More than 400 million people get their drinking water from the Yangtze, and water security has become a major issue in China's development.
President Xi Jinping attached great importance to restoring the river's ecology. He urged officials from provinces along the river to concentrate on ecological restoration and protection, and to avoid large-scale development.
Chongqing on the upper reaches of the Yangtze River is among 11 provinces and cities that are included in the Yangtze River Economic Belt, a key national development strategy. It has made ecological protection its most important mission.
Orange farming is now popular in Chongqing districts and counties in the Three Gorges Reservoir area.
Wanzhou District in the northeast Chongqing began to build a national agricultural park to demonstrate the green agriculture concept in 2017.
"It can help reduce the use of pesticide and improve air quality," said Wang Xiaowei, from fruit tree department of Wanzhou Agricultural Commission.
"Farmers also make more money from those organic products."
(Source: China Daily)