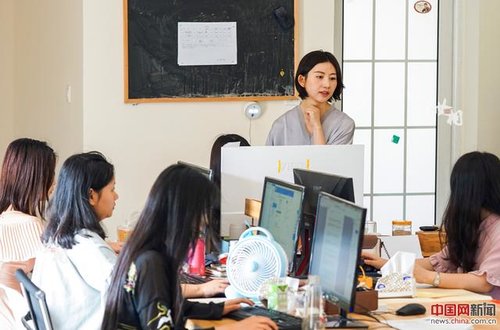 Feng Liyuan leads her team to sell handmade ceramics through her online store. [China.com.cn]
Feng Liyuan, a graduate from Jingdezhen Ceramic Institute in east China's Jiangxi province, has put an effort into improving the production of porcelain for the past several years by combining modern manufacturing and traditional techniques.
Porcelain works of Jingdezhen, the porcelain center of China, are popular across the nation.
Traditional manufacturing techniques are too time-consuming to meet consumers' needs, says Feng, so she has tried her best to improve conditions.
Feng majored in English, but due to her love of porcelain, she chose to open an online store to sell Jingdezhen porcelain all over the world.
Her mother gave her 10,000 yuan as start-up fund and told her to take part in the civil servant recruitment exam if she failed to run the store successfully.
Feng used the money to buy a camera and an electric bicycle. The photos attracted much attention online and she succeeded in running the store.
Half a year later, she opened a physical store in Jingdezhen and gradually learned more about the history of the industry.
The best porcelain in Jingdezhen is handmade and many workshops there are run by couples or by a master with several apprentices.
An authentic porcelain work undergoes 72 procedures and each step involves several special skills.
Craftsmen were excited to learn that Feng could help them sell porcelain online at higher prices. However, at the same time, Feng was worried about the quantity.
"We cannot take part in large-scale sales on the internet because we do not have enough finished products to meet consumers' needs," said Feng.
The handmade ceramics are time-consuming. Even painting a porcelain takes 20 days.
In other places, people have introduced machines to carry out large-scale processing. Those porcelains are less costly but coarse.
In this way, the best porcelains come from Jingdezhen while the market is dominated by items from factories in other places.
In order to change the condition and further develop Jingdezhen porcelain, in 2016, Feng set up a factory with her husband. Around 110 craftsmen worked there. The couple planned to develop porcelain manufacture in an innovative way.
On the one hand, they insisted on the production of handmade porcelain so as to ensure its artistry and fineness. On the other hand, they introduce machines in some procedures to scale up production and, for some coarse works, skilled craftsmen are instructed to refine them.
"Porcelain is the symbol of Jingdezhen. It is not easy that traditional techniques have been retained. We must devote our efforts to passing them down," said Feng.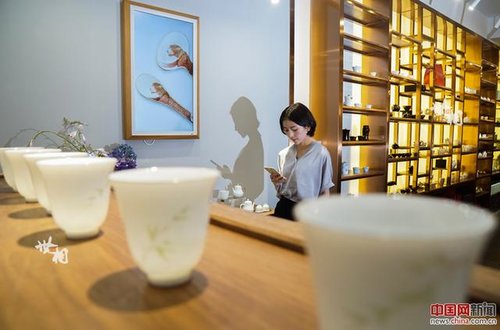 Feng runs her physical store displaying and selling porcelain made in her factory. [China.com.cn]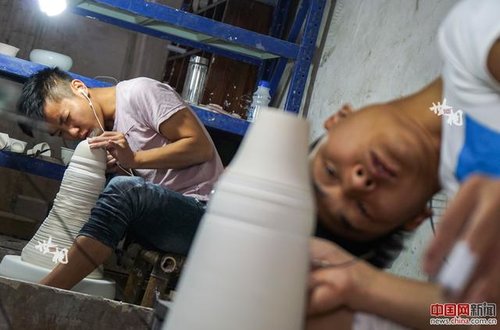 A craftsman makes porcelain in the factory. [China.com.cn]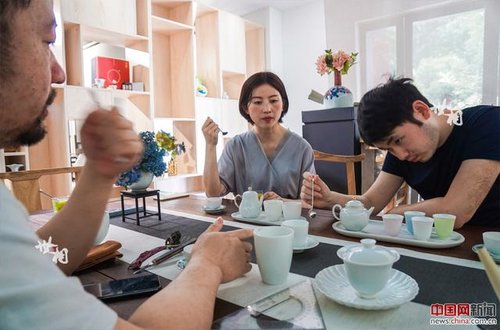 Feng talks with her business partner about how to design teacups. [China.com.cn]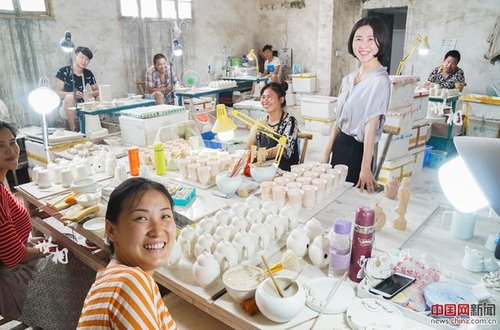 Feng and craftsmen in her factory [China.com.cn]
(Source: China.com.cn/Translated and edited by Women of China)