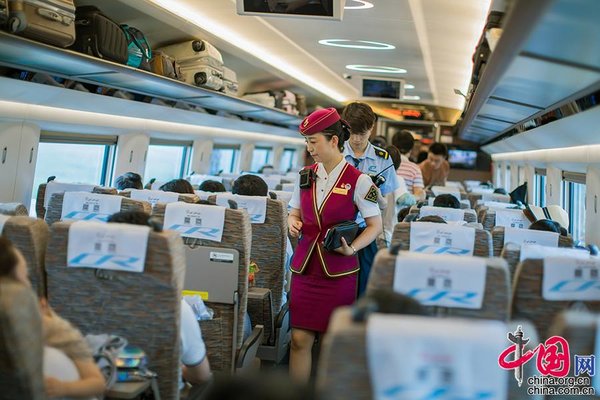 Zhao Xiaoqin checks tickets in the carriage. [China.com.cn]
Zhao Xiaoqin, an on-board conductor from the No.2 Team of Beijing-Shanghai High-Speed Railway, has witnessed the rapid development of China's train system first-hand over the past decade.
Zhao, 34, began to work at the Beijing Railway Bureau in 2003. Four years after, she was selected among the first batch of stewards to work on high-speed trains.
She has witnessed the introduction of many different types of trains during her career, including the normal-speed carriages, Hexie and Fuxing trains.
Meanwhile, the facilities at every train station has changed dramatically, too.
For example, the kettles for hot water have been updated and replaced by safe and convenient drinking fountains, whilst seating and wash rooms have also improved a lot.
Furthermore, in the era of the internet, passengers can select seats via their mobile phones and enter the station with smart ticket-checking machine. They can also surf the internet at their leisure whilst they travel.
"In April 2007, I became a steward on the high-speed trains. I always remind myself that services should catch up with the fast development of China's railways," Zhao added.
In 2008, when Zhao became a conductor, she paid much attention to her work. To serve passengers with higher requirements, she organized a Xintu (happy trip) Crew.
Ensuring the normal operation of the vehicle is the premise of providing high-quality services for passengers. Every time a train leaves a station, Zhao checks the whole vehicle, along with a machinist and transport police.
This year, Beijing Passenger Transportation Section launched an app for conductors to record their work, covering services, safety and hygiene.
"In the past, broadcasts on board were carried out by loudspeaker, but now they can be done by the intelligent system. By clicking on a link, crew members can select proper broadcast content, which is very convenient," Zhao explained.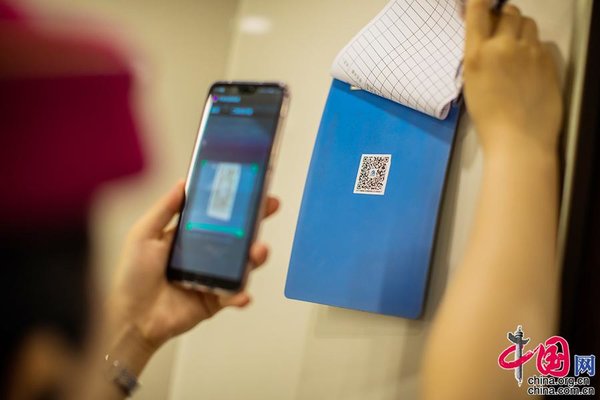 Zhao checks in via an app. [China.com.cn]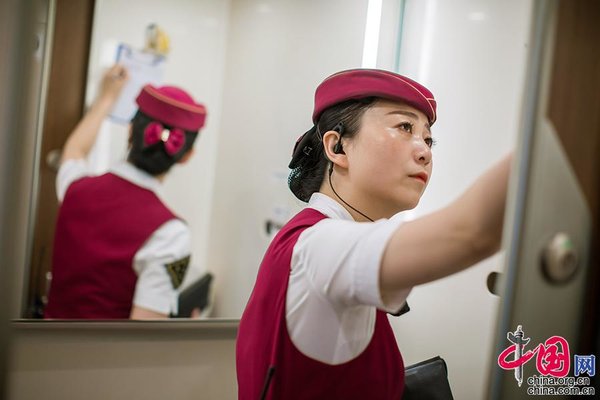 Zhao takes notes on the train. [China.com.cn]
Zhao picks up the set meals ordered by passengers. [China.com.cn]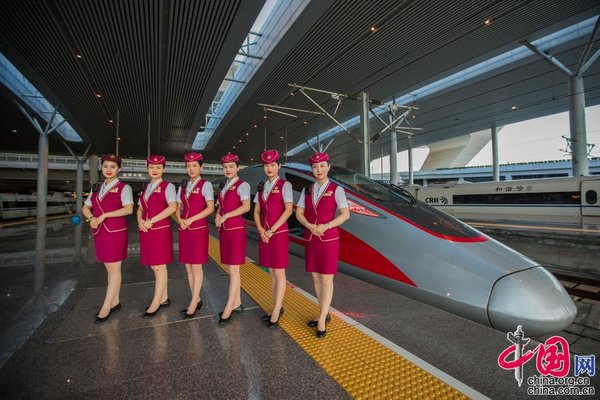 Zhao takes the photo with other female stewards. [China.com.cn]
(Source: china.com.cn/Translated and edited by Women of China)