Ding Haiyan, the first secretary of Hejiayuan Village in northwest China's Ningxia Hui Autonomous Region, has been working in the village for four years to help local villagers escape poverty.
When Ding, then president of the trade union of Wuzhong Water Supplies Bureau, was appointed as first secretary of Hejiayuan on March 18, 2015, she clearly understood her heavy responsibility.
"I firstly contacted all the villagers, and I found there were 223 households and 865 people in the village," Ding said.
"Many able villagers have moved away, with only 47 permanent households left," she added.
Although confronted with such conditions, Ding still believed that there existed more methods than difficulties.
In order to help villagers escape poverty, Ding invited officials of the Wuzhong Water Supplies Bureau to investigate in the village and the bureau allocated 140,000 yuan to build a gravel road.

After building the road, Ding carried out the second step of her plan, leading villagers to plant trees alongside the roads.
Moreover, Ding also inspired villagers to change their tradition of planting spring wheat, instead planting more cash corps.

"In 2014, the per capita net income was about 2,160 yuan, and conservatively calculated, the per capita income of our village will reach more than 7,500 yuan by the end of 2018," Ding said.
As the director of the women's commission of the Wuzhong Water Supplies Bureau, Ding also paid much attention to "left-behind" women and elders.
According to the condition of each household, she guided the villagers to develop beach chicken breeding with a short development cycle and quick effect, and actively sought the support of relevant departments.
Meanwhile, she delivered 100 chicks to every impoverished household in the village, with cages and feed distributed.
In 2017, raising chickens increased their income by 6,000 yuan.
"The next step is to continue to consolidate and expand the scale of characteristic industries, such as planting red onions, Chinese herbs, grains and breeding beach chickens . We will also strengthen technical training and expand sales channels, to create a new way for the development of the village," Ding added.
Ding investigates in the field. [cctv.com]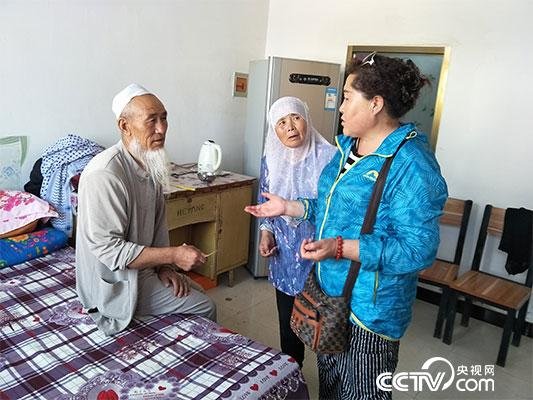 Ding communicates with villagers. [cctv.com]
(Source: cctv.com / Translated and edited by Women of China)