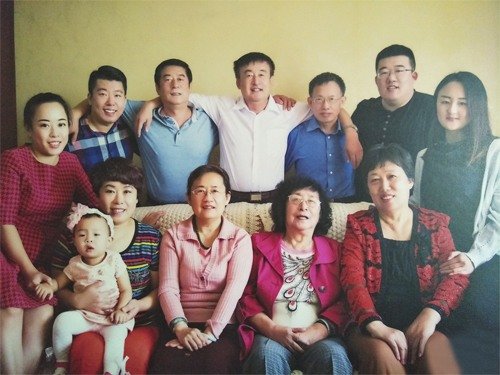 Members of the family attend a reunion. [Cnwomen.com.cn]
Four generations of a family from Jinzhou District in Dalian, northeast China's Liaoning province, remain committed to the medical profession over the years, each inheriting the spirit and merits of their predecessors.
Sui Guimei, 89, the first doctor in the family, has passed on the medical practitioners' benevolence and qualities to her children by example, safeguarding the valuable spiritual wealth left by previous generations.
Sui began to work as a gynecologist in her 20s and was the first obstetrician and gynecologist in Jinzhou. She was also a practitioner as well as pioneer in conducting scientific methods and promotion in the countryside.
She has relieved illnesses for tens of thousands of women and saved the lives of countless mothers, according to her history.
Sui's husband Miao Shifa was also an outstanding medical talent in local area back then. He graduated from Guandong Medical College, which was the predecessor of Dalian Medical University. He was then assigned to Jinzhou Textile Factory Hospital, and later became the first director of the hospital.
Though both parents were swamped by work all day long and barely took care of the family, five of their children were self-reliant and worked hard at their studies since childhood. The oldest son also took the initiative to take care of his younger siblings.
"As far as I can recall, my mom never took me to an amusement park or go to the movies, and scarcely did she make a delicious meal. In my family, my parents were usually busy with work, a kind of spirit that has subtly influenced us and formed our values and morality," said Miao Shuo, the youngest daughter.
In the 60s, an accident completely devastated the family. When the whole family planned to settle down in the countryside, Miao Shifa suddenly died of brain disease, which left the family worse off and forced Sui to shoulder all the family responsibilites.
In the first year after Miao Shifa's death, the eldest daughter was admitted to Zhongshan School of Medicine, Sun Yat-sen University, in south China's Guangdong province.
Six months later, the eldest son and the second son were admitted to universities as well. Under the encouragement of Sui, four of the five children attended universities and colleges, which was quite rare in those years, and only one went to junior college.
Sui says that the children were all admitted with high scores during the college entrance examinations at the time, thus they had more freedom in choosing their majors; however Sui persuaded them to pursue medical study.
After her children were engaged in work, Sui still constantly reminded them to be outstanding, friendly, dedicated, and professional, and urged them to carry forward the spirits of their ancestors and the determination to overcome hardships.
Despite surviving the hard times, Sui has never forgotten the difficulties the family had gone through. During festivals and holidays, Sui still tells the children to be grateful to the motherland, society, and to those who have helped them.
Now there are 15 people in the family who are engaged in the medical profession, including five masters, three doctoral students, five chief physicians, and one deputy chief physician.
They work in departments such as gynecology, internal medicine, surgery, Chinese medicine, and stomatology, and could almost team up to run a hospital.
Miao Zhibin, the grandson of Sui, also followed her grandmother's advice when applying for China Medical University, Liaoning, and is now a dentist.
Sui has recently engaged in writing her autobiography to motivate and educate future generations.
(Source: Cnwomen.com.cn/ Translated and edited by Women of China)