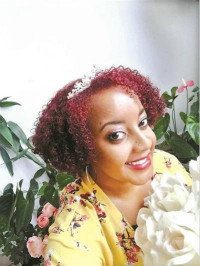 Hanna Getachew [Guangzhou Daily]
Two young Africans from Cameroon and Ethiopia who study and work in China expressed their views and anticipations as well as their concern of bilateral friendship during the 2018 Forum on China-Africa Cooperation (FOCAC) which was held in Beijing from September 3-4.
Speaking of the Beijing Summit of the Forum on China-Africa Cooperation (FOCAC), they said they expected the Belt and Road initiative (BRI) to open more doors for China-Africa cooperation and wished to embrace the opportunity of win-win development.
Joseph Olivier Mendo'o, 25, comes from Cameroon. He is currently studying for his doctoral degree at Peking University.
On the opening day of FOCAC, Sept. 3, Mendo'o was invited to share his opinion from the perspective of an African youth.
As a student who has been in China for less than three years, Mendu has been deeply aware of the new opportunities for youth exchanges.
He is very optimistic about the future. "This year will mark more cooperation between China and Africa."
Determined to be a diplomat, Mendo'o learns Chinese as his seventh language. He had been studying Chinese for 10 months at the Confucius Institute in Yaoundé, capital of Cameroon, before coming to Beijing.
He took part in the Chinese Bridge competition in Cameroon and won the second place in 2015.
China was his first stop in Asia. During his study at Peking University, he participated in quite a number of activities arranged by the school, such as traveling to Shanxi province to experience local noodle culture, going on a trip to the terracotta warriors in northwest China's city of Xi'an and visiting high schools in east China's Jiangsu province, among others.
During his two and a half years stay in China, he has also been fascinated bytraditional Chinese handicrafts such as pottery and paper cutting. He has learnt to play Hulusi and Erhu, both traditional Chinese folk instruments.
Like Mendu, African students from different countries living in Beijing also give local Chinese students a chance to learn more about the mysterious and intriguing African continent.
Every time he comes to Beijing, Mendo'o would bring some Cameroonian snacks and decorations, as well as ethnic costumes. "I like to show my classmates and the Chinese communities what Cameroon looks like," he explained.
As chairman of the committee of Peking University's model UN general assembly, he works to bring up topics on international situation for discussion every year.
"Now more and more students here at Peking University are doing studies on Africa or showing interest to Africa," Mendu introduced.
Mendu comes to China with his clear goal, that is, to re-understand the relationship between the two sides, especially to bring China's successful experience back to his homeland.
When he first heard about the BRI, he was excited, "This is a good opportunity to understand and engage with China's development".
As for this year's Summit of FOCAC, Mendu has lots of expectations. As one of the African students receiving government funds to China, he hopes the collaboration between the two sides will take a broader form.
Hanna Getachew, 31, comes from Ethiopia, and is also studying at Perking University.
Before she came to study international law at Peking University in late 2016, Hanna had studied Chinese for half a year. She then moved to Shenzhen campus in south China to continue her studies in 2017.
Currently, she has visited many famous Chinese cities like Xi 'an, Chengdu, Leshan, Kunming and other places. Among them, Jiuzhaigou, in southwest China's Sichuan province, is her favorite.
She, together with more than 70 youth representatives from 51 countries, went to Nanjing in east China, and Changsha in central China's Hunan province, to participate in the International Youth Forum for Creativity and Heritage Along the Silk Road in May this year.
It was also such occasions of genuine cultural exchanges and interactions that spurred her to come up with the idea of writing to Chinese President Xi Jinping.
"A lot is going on and needs to be heard. I hope we can expand the exchange space between China and Ethiopia and achieve sustainable development," Hanna explained.
After extensive discussions with other young people from across the country, she got to know as fully as possible about their ideas and wrote them down in the form of a letter, which she handed to the forum organizers.
President Xi Jinping wrote in reply to youth representatives at the forum on August 28. Mendu immediately informed Hanna of the good news while she was on a sightseeing trip in Europe. She was pleasantly surprised. "Never dreamed of it," she said.
Hanna, who worked at Ethiopia's Ministry of Environment and Forestry in 2015, has been keeping an eye on the BRI which was proposed by China.
The major event of Ethiopia's involvement in the BRI was the construction and operation of East Africa's first electrified railway — Yaji Railway, which was built and operated by China.
"Africa is changing and developing, but the most important change takes place in the railways," Hanna said. Electrified railways mean a lot to Ethiopia and are popular with locals. She sees huge prospects for China-Africa cooperation.
She often writes articles to share her views on the Black Livity China platform, which was founded by her and her friends.
As a member of the Peking University's African think tank as well as an African fellowship recipient at the university, Hanna hopes that the African communities she participates in would enable more young Africans and Chinese to get to know each other. After her graduation this summer, Hanna chose to work at Beijing's BRI service agency, a practical response to President Xi's reply in hope of creating more opportunities for China-Africa cooperation and exchanges.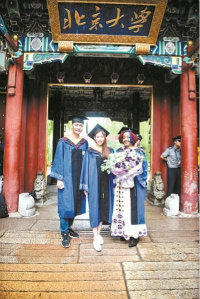 Hanna Getachew and her classmates at Perking University [Guangzhou Daily]
(Source: Guangzhou Daily/Translated and edited by Women of China)