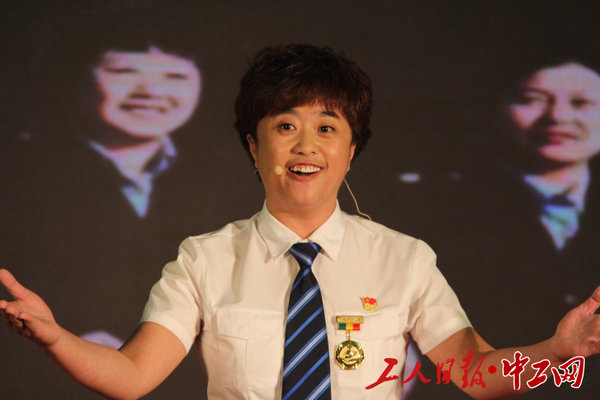 Chen Jia shares her experiences on the stage. [Workercn.cn]
Chen Jia, head of the Manzhouli Port Women's Maintenance Team in north China's Inner Mongolia Autonomous Region, recently shared her working experiences.
As the largest land port, Manzhouli is an important hub on the Belt and Road.
"The Manzhouli Port Women's Maintenance Team was founded in 1986, and the first foreman together with 13 women under her has become the world's first batch of women vehicle inspectors," Chen introduced.
"During the winter season, Manzhouli is frequently invaded by the Siberian frost. Once, a rare snowstorm hit the area with a temperature plummeting to minus 47 degrees Celsius and wind chills seeming to bite into our bones. However, we did not flinch whilst picking up six trains that night," Chen recalled.
"Meanwhile, other than the severe cold, we also needed to overcome our fear when working at night in the deserted fields," Chen added.
"For us, we can bear the working environment and overcome work difficulties, but we can't make our children understand us," she added.
Chen recalled: "Once when I was taking part in an activity with my son, he did not want to take my hand, nor did he even want to see my face, as he thought I was not as fair and good-looking as other mothers."
Moreover, as the Chinese representative, if Chen releases problem vehicles into China, it would be dangerous for the country.
"We represent the image of the motherland, so we must ensure China's safety," Chen said.
During the past 32 years, the Women's Maintenance Team has detected a wide range of malfunctions, thereby has avoided the loss of nearly 700 million yuan.
With the advancement of the Belt and Road Initiative, the port trade continues to heat up.
"In the new era, we shall carry out our responsibilities with passion as we did before and work harder to contribute to China's strength in transportation," Chen added.
(Source: Workercn.cn/Translated and edited by Women of China)