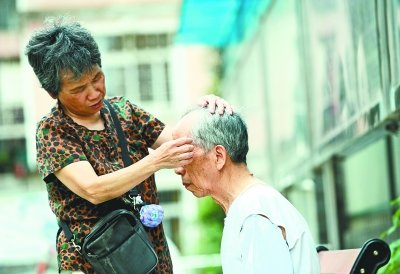 Fan Chengfen, who ia a 71-year-old woman from Wuhan, in central China's Hubei Province, takes care of her husband. [whwb.cjn.cn]
A 71-year-old woman from Wuhan, in central China's Hubei Province, has developed dozens of elderly care products to take care of her husband with Alzheimer's over the past 15 years, two of which were granted patents.
Fan Chengfen and her husband Wang have lived a simple and happy life in Wuhan until after 2003, when Fan found her husband was often confused and exhibited odd behavior and tempers.
As time passed by, her husband got worse. Out of fear, Fan took her husband to see doctors at the major hospitals, where he was diagnosed with Alzheimer's disease in the end and was given five years of life expectancy.
The news came as a shock to her, and at the thought of the good old days when her husband treated her with all kindness, she felt strongly spurred to go all out to care for her husband and ensure that he lead a quality life with dignity in his final years.
Thanks to Fan's great care and patience, her husband's condition remained stable until 2010. That year, however, many new symptoms appeared, which greatly affected his ability to manage self-care.
"It was like fighting a battle to get his clothes changed. He would just push you off as soon as you started to touch him," said Fan.
At first, Fan asked her daughter to buy products on the internet, but only to find out that those products had various types of defects.
In order to help Wang lead a life with as much comfort, ease and dignity as possible, Fan decided to modify the designs of goods for her husband all by herself. As Fan was a major of mechanics and had strong manipulative ability, she purchased a range of related products such as bed pans, in an effort to explore and improve their functions.
As wearing paper-diaper for too long would be uncomfortable, Fan tried to add a humidity alerter on the diaper to remind her to change it for her husband.
The alerter would sound when it reaches a given humidity, and yet it would also wake her husband up while he was asleep. Thus Fan changed the product for a number of times and until she finally developed the "smart" pants.
Fan's invention has improved the quality of her husband's life and made her caring for her husband easier than it was previously.
As Wang always threw his clothes away, Fan decided to make special gloves for him.
She asked her daughter to buy gloves that could constrain Wang's hands, and she made some alteration so that the new gloves allowed her husband to move freely without taking off his clothes blindly while at the same time also kept his hands warm in winter.
In addition, Fan also invented many other products, such as special shirt and manually-operated flushing toilet.
Following other people's advice, she applied for patent for the smart pants and special constraint gloves in March 2015 and obtained two certificates in September in the same year.
During the first training course for cognitive disorders caregivers that started this week in Wuhan, Fan was invited to share her experience and inventions for caregivers and family members.
"If these inventions can provide convenience for others, I'd like to share them with others so as to help more people," Fan said.
(Source: whwb.cjn.cn/ translated and edited by Women of China)