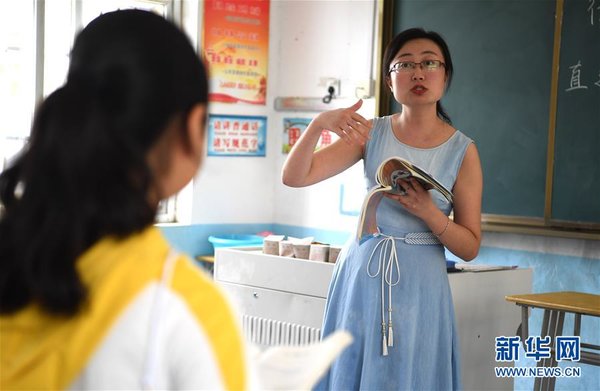 Li Yang gives a lesson to students. [Xinhua]
31-year-old Li Yang, a Chinese teacher at Gaodian Junior High School in Feixi County, east China's Anhui Province, has been engaged in rural education since 2012.
With the ideal of working in a grassroots school, she chose a teaching post in a remote area far from her hometown when she graduated from Fuyang Normal University in 2012.
Due to its remote location, Li chose to live in the school dormitory. Her daily work mainly includes dpreparing for the class, giving lessons and correcting homework, as well as communicating with her students.
Her parents lived in Huainan, south of the province, therefore Li would visit them every holiday.
As transportation is inconvenient in the rural area, Li has to change buses many times when she goes home.
Sometimes, when she misses the last bus, she has to walk more than 10 kilometers to transfer another bus.
Li said that the proportion of young teachers working in rural schools now is still quite low, with many people having either quitted their teaching jobs or switched to urban schools.
"But for me, I shall stick to my post here and strive to be a qualified rural teacher for the sake of these children," she added.
Li answers a question from a student. [Xinhua]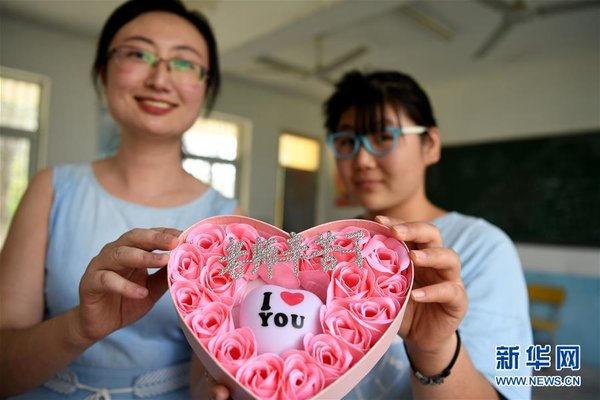 Li Yang receives a gift from students. [Xinhua]
Li walks to the dormitory with her students. [Xinhua]
(Source: Xinhua/Translated and edited by Women of China)