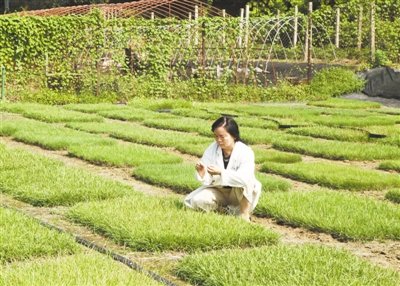 Liu Jianxiu [Li Jianjian/stadily.com]
A female botanist from east China's Jiangsu Province, who has devoted her life to science, recently developed a new strain of grass that was used in the lawns at Velana International Airport of the Maldives.
Liu Jianxiu, 55, is a researcher and developer at the Institute of Botany of Chinese Academy of Sciences (CAS) in Jiangsu.
Liu's Yangjiang Bermuda Grass was selected by the airport for its outstanding performance in tropical areas.
Thirty years ago, Liu dreamed of being a philosopher. However, after the college entrance exam, she chose agronomy by chance.
In 1987, Liu entered the Institute of Soil and Water Conservation of CAS to pursue a master's degree, mainly studying grassland resources.
In her master's thesis, she systematically sorted out and studied wild Shadawang foraging resources under the influence of her supervisor.
It was the first time she had done a comprehensive and systematic study of a grass, Liu recalled.
Upon graduation, Liu gave up the chance to work at CAS and chose to engage in grass research at Fujian Agriculture and Forestry University in southeast China.
"This university takes grass as the core of its related research work, and combines it with many industries so as to make use of grasses to the utmost. Such an idea attracted me a lot," Liu explained.
While working in Fujian, she also served as a part-time assistant to the general manager of a golf course, helping the staff to manage the lawn nursery and working out relevant management procedures. It was Liu's first systematic contact with turf. At that time in the country, lawn grass was mostly imported from overseas. This work experience gave rise to an idea in her mind – could she cultivate native lawn grass domestically?
Three years later, Liu entered Nanjing Agricultural University to study for a doctorate in botany.
She and her supervisor decided to do relevant research.
At that time, few people in China were investigating this field, so she was referred to as "the first female doctorate engaged in lawn science in China" by her peers.
For a long time, turf grass research was much ignored. From the mid-80s to the 90s, the academic circle began to work in related fields.
"Although we started relatively late compared with other countries, we have our own advantages," said Liu.
"First, there are rich grass seed resources in China; second, many imported grasses are not acclimated to China, and our local grass seeds are more adaptable to the environment," Liu explained.
Liu joined the Institute of Botany of CAS in Jiangsu in 1996 to set up a lawn grass research team to systematically explore and make use of hot season turf grass in China.
Yangjiang Bermuda Grass was her first outstanding creation.
Up till now, Liu's team has collected over 1,400 seed sources of 20 species of turf grass, and established a national resource bank.
"Our goal is to localize the main warm season lawn grass," said Liu.
To achieve this goal, Liu watched lots of football matches to study different lawns.
Today, her Yangjiang Bermuda Grass and Guanzhong Bermuda Grass have been successfully used at sports competition venues including the Youth Olympic Games and the Asian cup, and have become by far the main grass species for football fields in China.
In addition, the salt tolerant grass specie Yangjiang Bermuda Grass developed by her has also been used on a large scale in salt-laden and alkaline fields in south China island and reef, being recommended as the main species that meet the requirements for afforestation in the tropical area.
At present, Liu's team has worked closely with over 20 enterprises and institutions at home and abroad. The new varieties developed by them have been widely applied to ecological construction in China.
"The grass is tough, pliable, simple, as well as clever. They have many unimaginable strategies for adaptation, which is worthy of our learning. We should study it with awe and use it well," Liu concluded.
(Source: stadily.com/Translated and edited by Women of China)