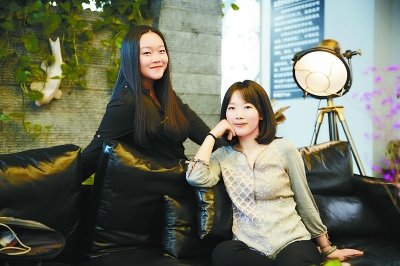 Liang Xiaoliang (Left) and Liang Qinger [Workercn.cn]
Cousins Liang Qinger and Liang Xiaoliang, the daughters of two famous Beijing cultural celebrities, recently shared their experiences as women working in China's film industry.
Together, the pair have authored and directed the movie How Can I Trust You, which was released on September 14.
Their grandma Shen Rong is a famous writer, and their grandfather previously served as the deputy editor-in-chief of state-run media People's Daily.
Moreover, their fathers also worked as scriptwriters and actors respectively, best-known for their classic sitcom I Love My Family.
With such a conspicuous family background, Liang Qinger and Liang Xiaoliang embarked on the path of creation with simple ideas to create scripts in their own styles, and strived to become China's top screenwriter sisters.
Liao Xiaoliang said: "Comedian Chen Peisi once told us never to care about such things as the box office, fame or social status, but just stay focused on the work itself."  
Relationship Between Father, Daughter
"I think the relationship between fathers and daughters is particularly delicate. There is a kind of tension between them. Fathers tend to over-protect their daughters," Liang Qinger commented.
"I've read a novel which indicates that daughters can bring a special kind of harm to fathers. No one can break a father's heart like a daughter. So, we wanted to start with exploring that fragile relationship and expressing this special feeling," Liang Qinger added.
Meanwhile, Liang Xiaoliang said:" My parents separated when I was young. The movie also provided a chance for me to try to get along with my father better."
"This is our first work of creation. We hope to express and convey some of our feelings of life through our work. So we chose father-daughter relationship as the theme as it is less commercial.
Within such a big frame, we have been exploring how to make it more humorous," Liang Xiaoliang added.
Beijing-style Humor
During the interview, they also shared their life experiences.
Liang Qinger said: "I began to study in the United State when I was 13. At that time, I began to keep a diary and write essays every day. After graduation from university, I thought that I should have abundant life experiences to be a writer. "
"So, in 2012, I decided to choose a job as a trucker to enrich life while experiencing something crazy. I worked 24 hours a day and slept on the truck. After two-years' driving, I had been to all the 48 states in the US," she recalled.
In 2013, Liang Qinger got an opportunity to translate the script for the movie Somewhere Only We Know, directed by the famous female Chinese moviemaker Xu Jinglei.
"During the translation process, I made some changes to the original script and they were accepted by Xu. Then she invited me to join her scriptwriting team. Since then, I've been working as a scriptwriter," Liang Qinger recalled.
In contrast to Liang Qinger, Liang Xiaoliang said she grew up in a conventional way.
"After graduation from the Communication University of China, I went to Africa to learn painting, and a year later, I was admitted to Beijing Film Academy as a graduate student.
"Because of my cousins' relationship with director Xu, I have been writing scripts for Xu. In 2016, I wrote the script for the film-version of My Classmate is 200 Million Years Old."
(Source: Workercn.cn/Translated and edited by Women of China)