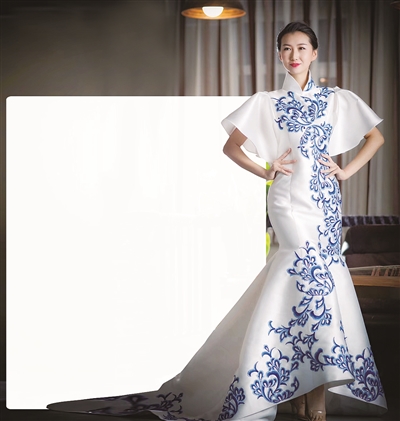 Qu Dina [Guangming Online]
A famous fashion model from Shenyang, northeast China's Liaoning Province, helped popularize her region's traditional cheongsam dresses by wearing them and bring out their best at the 23rd Macao International Trade and Investment Fair from October 18-20.
Qu Dina attended the three-day fair wearing eye-catching cheongsam dresses featuring Manchu-style embroidery. In doing so, she intended to attract many attendees and passersby to the image and history of the city of Shenyang, where she is from.
She also presented local Manchu embroidery and Liaoning porcelain at the event.
Manchu embroidery peculiar to Shenyang has gained the attention of more and more people in recent years. An embroidery mill in Shenyang customized two elaborate cheongsams for Qu.
During the activity, Qu walked from her hotel to the exhibition center for half an hour every day.
"Clothing art should not be just shown on the catwalk. It exists in life. Though I am tired by walking for quite a long distance on high heels, I was glad that people who saw me could appreciate Manchu embroidery," said Qu.
"I was particularly elated when people asked me where I bought the cheongsam, because I felt the clothes I wore has won more attention," Qu continued.
Qu also hoped that more people could learn about Shenyang through embroidery and porcelain. She pledged to continue to improve the reputation of the city.
(Source: Guangming Online/Translated and edited by Women of China)