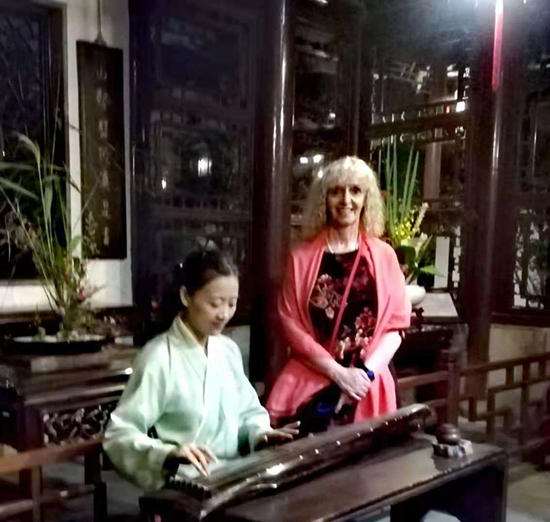 Giza Jaziny learns to play the Chinese zither. [Xinmin.cn]
Francisco Serratore from Italy recently attended the 25th International Council for Traditional Music at the Shanghai Conservatory of Music, east China.
Serratore revealed that while he was growing up in Milan, he was impressed by a live performance of traditional Chinese musical instruments staged in a quaintly decorated Chinese restaurant in the local Chinatown, where he saw the Chinese zither, pipa, and flute for the first time in his life.
Serratore said, "We could only learn about and play Western classical instruments when we were at school, such as the piano, violin or the drums, which are completely different in shape and sound from that of Chinese musical instruments." Since then, he began to study Chinese musical instruments.
As there were many people from Wenzhou City, east China's Zhejiang Province, doing business in Milan, he started to communicate with them. He also consulted a large number of books in the libraries to study Chinese musical instruments.
In his reading, he learned about the instrument suona, which can be played both at weddings and funerals.
Serratore even flew to Wenzhou to continue his learning about the instrument. However, even in rural China, suona is only played during weddings in a few ethnic minority regions. He later invited a 60-year-old suona player he met at a funeral ceremony to be his teacher.
Serratore said that there aren't many rules to follow when playing the suona, which is completely different as compared with learning Western instruments. After learning for a few months, Serratore was able to complete several funeral tunes in a skillful manner.
He then started to replace his teacher and follow the band to perform at funerals. Serratore said, "Everyone found it interesting because I am a foreigner, and they would come to take a photo with me when I was playing the suona."
The experience also helped him complete his doctoral thesis at the Sapienza University of Rome.
When Serrato started his work at the post-doctoral mobile station of the Shanghai Conservatory of Music, he was infatuated by local music, especially Yue Opera. He also learned to play the erhu in Shanghai.
Giza Jaziny, a full-time professor at the Shanghai Conservatory of Music and president of the Folk Musical Instrument Research Group of the International Council for Traditional Music, was deeply fascinated when she first saw the Chinese musical instruments displayed in the exhibition halls in Prague, Czech Republic, in 1982.
In Ho Chi Minh City, Vietnam, she was exposed to the court music played by a Chinese folk band for the first time. She believes that there are stories behind the Chinese instruments.
Giza revealed that she often goes to Fuxing Park as she can not only see people dancing there but also hear various music instruments playing, such as saxophones and flutes. She also invited a group of foreign scholars to come to listen to local music and study related culture, and recorded these melodies and stories in the form of a documentary.
"I am planning to write a thesis on the impact of the urban voice on the lives of the urban residents," said Giza.
Giza Jaziny [Xinmin.cn]

(Source: Xinmin.cn/ Translated and edited by Women of China)