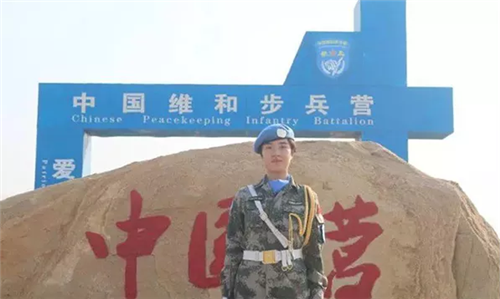 Liu Jun on duty [China Women's News]
A female soldier from north China has earned high praise from the public after engaging in a peace-keeping operation in South Sudan for several years.
Liu Jun trained hard to build up her strength and fitness while serving in the army.
After learning that her troops was going to form an infantry battalion for a peace-keeping mission in Africa, Liu wanted to submit an application to join.
She then told her parents about the idea.
As is often the case, Liu obtained approval from her father, who said it would be a meaningful experience. And yet, her mother disagreed, fearing the operation would be risky.
To convince her mother, Liu said: "Don't worry, mom. Though peace-keeping is dangerous to some extent, it is also something glorious."
"I believed it would be the best decision I'd ever made," she added.
Liu's mother ultimately compromised and agreed to Liu's arrangement.
Shortly after landing in South Sudan, Liu posted a picture of herself and her comrade-in-arms conducting a peace-keeping operation on social media app WeChat, with a caption which reads "We are in Africa."
The update drew comments from many of her friends.
" Liu, it seems that you got sunburned," wrote one of them.
"How are you in Africa, Liu? Why did you seemingly grow thinner?" wrote another.
To remove their worries, Liu told them that she was fine, and that the countrye was providing them with plenty of assistance.
In fact, Liu and her comrade-in-arms live in transport containers and eat simple food whilst she is there.
Sometimes she had to face danger as conflicts were rampant in the area. However, Liu did not cower; she continued to serve locals.
"Life is tough in South Sudan, but the experience is invaluable," she said.
Liu and her comrade-in-arms [China Women's News]
Liu stands in front of a tank in South Sudan. [China Women's News]
(Source: China Women's News / Translated and edited by Women of China)