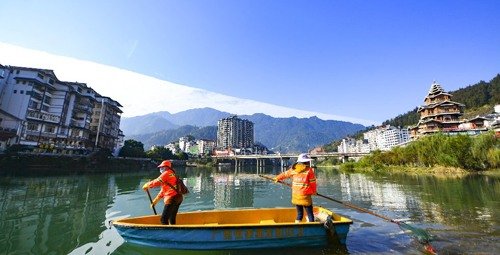 Two female sanitation workers clean a river on December 17. [China Women's News]
Female sanitation workers in the Multinational Autonomous County of Longsheng, south China's Guangxi Zhuang Autonomous Region, have devoted themselves to protecting the ecological environment year in year out.
On December 17, two female sanitation workers were busy clearing the floating waste on the Sangjiang River section, against fierce cold.
The move is part of the so-called "Beautiful Guangxi, Livable Countryside" project.
Over the past few years, people in the Longsheng County have stepped up efforts to prevent and control pollution, maintain clean rivers, and strengthen oversight.
Currently, with lush mountains and clear water, the local ecosystem has been restored, according to a spokesperson.
(Source: China Women's News / Translated and edited by Women of China)