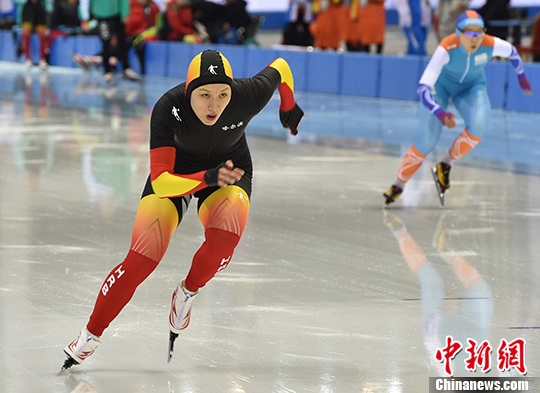 Zhang Hong at 13th China Winter Games held in northwest China's Xinjiang Uyghur Autonomous Region in January 2016 [chinanews.com]
China's first speed skating Olympic champion, Zhang Hong, maintained her position as a top-ranked skater after winning bronze at the women's 500 meters in the International Skating Union (ISU) World Single Distances Speed Skating Championships in Kolomna, Russia earlier this month.
Zhang holds national records on the 500 and 1,000 meter races, and over the past several years she has won a number of medals and world titles in the international arena. Her most famous accolade was probably her groundbreaking achievement at the 2014 Sochi Winter Olympics.
Hailing from Harbin, the capital of northeast China's Heilongjiang Province, Zhang snatched China's first Olympic title in speed skating. The victory immediately put her and her coach under media spotlight.
"She is mild-tempered and has a good attitude. She is not very aggressive, so I used to joke that she is more suitable for an attendant job than skating," said Zhang's coach Feng Qingbo.
Zhang and her coach have a close relationship. When Feng competed, he won 10 national champion titles. But he admitted that he feels more fulfilled today. "The two of us have a destined connection. We have similar characters; both of us are calm," said Feng. "I am proud that I have cultivated a world champion."
Zhang first began her sporting career as short-track speed skater. In 2008, she shifted to distance races.
However Feng said that winning the Olympic title has not affected her training. "Maybe I will ask her to change back," said Feng.
Because of her athletic success, China Central Television (CCTV) granted Zhang the Best Groundbreaking Award at its Figures in Sports of the Year Awards.
At the National Speed Skating Championships held in northeast China's Jilin Province in October 2015, Zhang won a gold in the women's 1,000 meters.
During the 2015-16 ISU Speed Skating World Cup last year, Zhang claimed three gold medals in women's 500 meters and another gold in the women's group category.
In January 2016, Zhang also claimed three national champion titles. However, she failed to reach her goal of setting a new record.
Zhang said that constant competitions and low temperatures took a toll on her performance.
After the 1,000m final, Zhang headed for Norway for the fifth leg of the ISU World Cup series. She admitted that it was still challenging but she hoped that she could manage to maintain a positive outlook for the world championship.
After the contest in Kolomna the Heilongjiang native ranked first in the World Cup with 690 points due to her outstanding performance this season.
When talking about her future goals, Zhang said that she had already had her eyes on the PyeongChang 2018 Winter Olympics. "But the Beijing Winter Olympics is also one of my dream events. It would be meaningful for me to skate in my home country," said Zhang.
Zhang was an official ambassador for China in the bid for the 2022 Winter Olympics. She will turn 34 years old when the 2022 Winter Olympics opens in Beijing.
(Source: chinanews.com and people.com.cn/Translated and edited by Women of China)