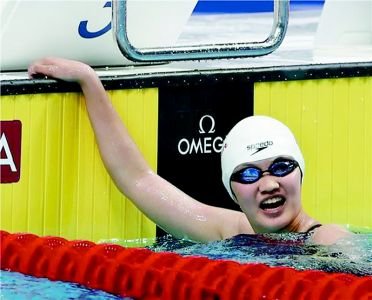 Li Bingjie poses for a photo in the water at the 17th FINA World Championships in Budapest. [Xinhua]
Li Bingjie, a rising Chinese swimming star, has set a goal to beat US double Olympic champion Katie Ledecky after her maiden World Championships appearance in Budapest, Hungary this July.
Li, who is only 15 years old , comes from Baoding, a city in north China's Hebei Province. Her parents were professional swimmers in their youth and her father was former national champion of the men's 1,500m freestyle.
Li began to learn swimming aged at 6 and was recruited into China's national swimming team when she was 12. She won three gold medals and one silver medal at the Chinese National Swimming Championships in Qingdao, a costal city in east China's Shandong Province, this April.
Li successfully met the public's expectations at the 17th FINA World Championships in Budapest, where she took two silver medals and one bronze medal.
Li, who has regarded Ledecky as her idol, said in an interview after the contest that she felt both excited and nervous in the water.
"I felt excited because I got the chance to compete with my idol. However, it was my first World Championships, so, unavoidably, I felt a bit nervous," she said, adding that she was not totally satisfied with the result.
As for her future, Li disclosed that she would work hard to improve herself and strive for better performances in following events.
"Although I am not clear on how Ledecky trains, I will spare no efforts to outrace her as soon as possible," she concluded in the interview.
(Source: Xinhua, Beijing Daily/Translated and edited by Women of China)