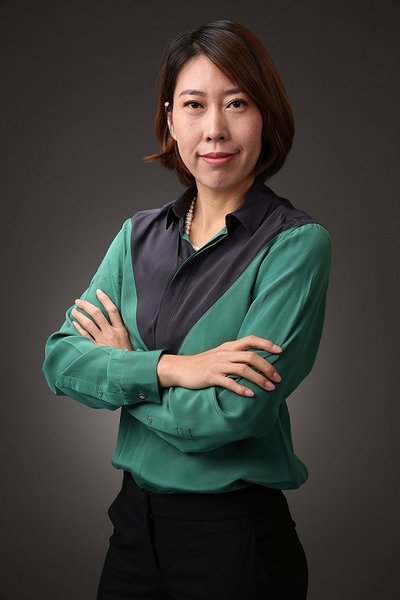 Gao Lijun, a professional boxer and owner of PlanBee Combat Training Club[cqcb.com]
Gao Lijun, 34, the first Chinese woman to win an international title in boxing, has devoted herself to promoting combat culture over the past year.
"Combat has changed my life. I want to let more people feel the spirit of being brave, confident and never admitting defeat," said Gao, who opened a training club last August in Shanghai to help and instruct boxing enthusiasts.
Becoming World Boxing Champion
Gao, from the city of Dandong in northeast China's Liaoning Province, often saw cops-and-robbers films during her childhood.
In particular, The Inspector Wears Skirts, a kung fu action film by Hong Kong director Wellson Chin, stimulated her dream of becoming a female SWAT police officer.
So she applied for a vocational high school affiliated to a local public security bureau, where she was given training in various combat skills like sanda (free-style grappling).
With only over a month's practice, she won a city-level sanda contest. Whilst competing in a provincial-level match, her gift for sports competitions attracted the attention of a senior coach. Later, she became a professional athlete of the Liaoning team.
Gao joined Shanghai Sanda Team in late 2002 and was admitted to Shanghai University of Sport in 2004. In 2005, she ranked third at the National Sanda Championships.
In March 2006, Gao entered the fiercest competition in her life. As an obscure boxer with just five months contact with boxing, she claimed the championship in the World Boxing Association (WBA) women's 57-kilogram class, shocking the world boxing circles.
After winning the gold belt, Gao retired. In September 2015, she made a successful comeback at the WBC/WBA fight held in the city of Ningbo in east China's Zhejiang Province.
Opening Combat Club
Last year, Gao and several friends opened the PlanBee Combat Training Club. To run it well, she had spent nearly 10 years making related preparations.
After her retirement, Gao gave up many good employment opportunities in the boxing field and went to several Fortune 500 companies. She tried different professions and jobs to learn about the commercial environment and how to run a company.
Moreover, she obtained her second doctorate at the University of Hong Kong.
In Gao's eyes, boxing helps relieve pressure. It enhances people's physical health and boosts their confidence and endurance.
Gao spent only 100 days choosing the site, purchasing equipment and hiring coaches. However, the high-quality courses and services gained high feedback from club members.
Gao thinks boxing culture is inclusive. As an enthusiastic tourist, wherever she goes, she visits local combat clubs to experience different combat cultures.
In particular, Thai kickboxing left a deep impression on her. So her club has hired three Thai boxing coaches who have rich competition and teaching experience.
She said she hoped to attract more people to walk into the ring and challenge themselves. So far, Gao's club has more than 100 members, aging from four to 53.
Trust and affirmation among club members have enhanced her confidence to further popularize combat projects, said Gao.
When asked about her greatest feeling on entrepreneurship, Gao mentioned three co-founders of the club – Qi Gengxin, Wang Le and Yi Chuan.
Of the three partners, only Qi used to be an athlete. Both Wang and Yi worked at Fortune 500 companies.
They met Gao at a boxing club in Beijing, gave up their enviable jobs and established the club out of strong love for the discipline.
This year, they plan to further scale and standardize their business.
(Source: Modern Lady/Translated and edited by Women of China)