Chinese weightlifter Meng Suping competes during the women's over-75kg weightlifting at the Rio Olympic Games, on August 15, 2016. [Xinhua]
The public should give more attention and care to domestic athletes, especially those who fail to win an honor for the nation and themselves at the Olympic Games, and provide them with more assistance in their re-employment when their athletic career comes to an end.
Meng Suping, who won a gold medal for China in the women's over-75kg weightlifting at the Rio Olympic Games on August 15, 2016, made the comments during a recent interview.
Meng, 28, comes from a rural family in the city of Ma'anshan, east China's Anhui Province.
However, the path to an Olympic champion was never easy for any athlete, Meng herself included. She has seldom returned to her hometown ever since she was engaged in weightlifting-related training in 2003.
Meng missed the opportunity to fight for national honor at the London Olympic Games in 2012. But for the illness of another Chinese hopeful weightlifter, Meng wouldn't have been summoned again to present in front of the entire world in an eye-catching performance at the Rio 2016 Olympic Games.
After defeating Kim Kuk Hyang of the Democratic People's Republic of Korea (DPRK) in the final round, Meng won the 15th gold medal for China and the first gold medal for Anhui at the Games.
As a delegate, she felt thrilled when General Secretary of the Central Committee of the Communist Party of China (CPC) Xi Jinping said in his report at the opening ceremony of the 19th CPC National Congress on October18 in Beijing that "We will carry out extensive Fitness-for-All programs, speed up efforts to build China into a country strong on sports, and make smooth preparations for the 2022 Beijing Winter Olympic Games and Paralympic Games."
As for how to better implement the spirit of the 19th CPC National Congress, Meng said that she would work with the public to help retired athletes, who have failed to win a medal at the Olympic Games and other high-level contests, reintegrate themselves into social life and earn a living by themselves.
Moreover, she would help her junior colleagues to learn more about the Chinese weightlifting delegation's great traditions and inspire them with her story to strive for national honor in their future competitions.
Meng disclosed that she would continue with her preparations for the upcoming Tokyo Olympic Games in 2020 and compete against other hopeful weightlifters if she is healthy.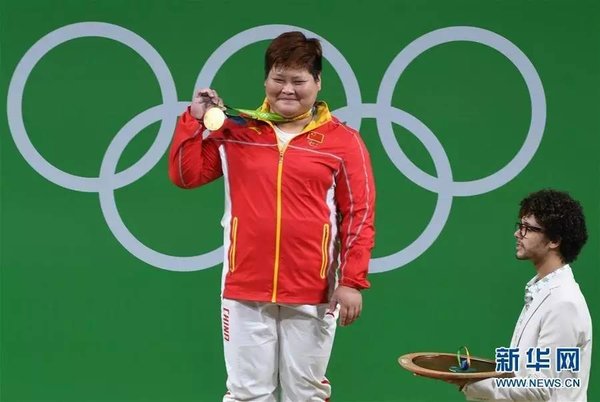 Chinese weightlifter Meng Suping (L) shows her gold medal of the women's over-75kg weightlifting at the Rio Olympic Games. [Xinhua]
Chinese weightlifter Meng Suping (C) attends the flag-raising ceremony after claiming the gold medal during the women's over-75kg weightlifting at the Rio Olympic Games. [Xinhua]
(Source: cnr.cn/Translated and edited by Women of China)