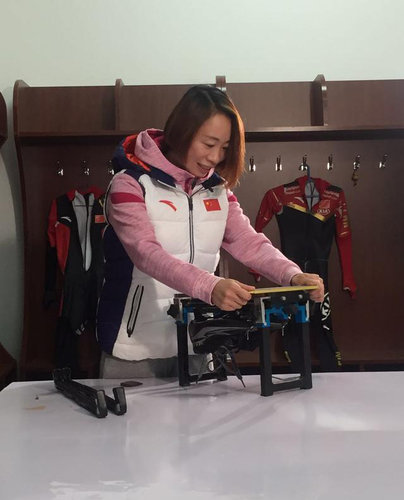 Wang Manli [youth.cn]
Turin 2006 Olympics silver medalist Wang Manli used to be China's top women's speed skater.
The 44-year-old, who has taken part in four Olympic Games, began her formal training at 11.
Cycling is a common exercise used by speed skaters to boost their performance, and it is common for short-track racers to chalk up 100 kilometers every day.
However, Wang persisted in cycling 160 kilometers daily to raise her endurance. High intensity and a quality of training laid a solid basis for her later sports career.
Before Wang retired, she clinched the women's 500m title at nearly every international competition, winning the World Cups two years in a row.
Xiao Hua, director of the speed skating department at the General Administration of Sport of China, said Wang was "a milestone skater" in the field.
In 2008, after ending her career as an athlete, she went to Heilongjiang Skating Center in northeast China.
"My work is to serve the sports team and do something for Chinese speed skating," she said.
"I am loath to leave the ice-rink. I walk around it every day, or I feel unwell."
As an athlete-turned educator, she understands skaters' needs and the great significance of achieving good results for them.
In October, Wang attended the 19th National Congress of the Communist Party of China (CPC) in Beijing as a delegate.
The report to the congress put forward an initiative to prepare well for the 2022 Beijing Winter Olympics and Paralympic Games.
For Wang, this is not only a historical opportunity but also responsibility and mission. Because in her mind, there is always a dream – to see Chinese athletes win and the national flag raised on international stages.
"It is my duty to cultivate talents for our country and let Chinese athletes shine with brilliance on international arenas," she said.
Since her retirement, Wang has never stopped contributing strength to the country's skating cause.
In addition to putting forward a series of new ideas about management of sports teams, she has been constantly sending outstanding skaters to the national team.
Now, she is more confident in realizing her work targets.
Combining Heilongjiang's natural resources (low temperature, plenty of ice and snow), she and other sports people will make use of the advantages of professional athletes and get more people from the general population involved in winter sports.
"We should promote the spirit and morality of Chinese sports, help form healthy life concepts across the society and let sports foster strong positive energy among the public," Wang concluded.
Wang Manli and trainees at Heilongjiang Skating Center [youth.cn]
(Source: Xinhua/Translated and edited by Women of China)