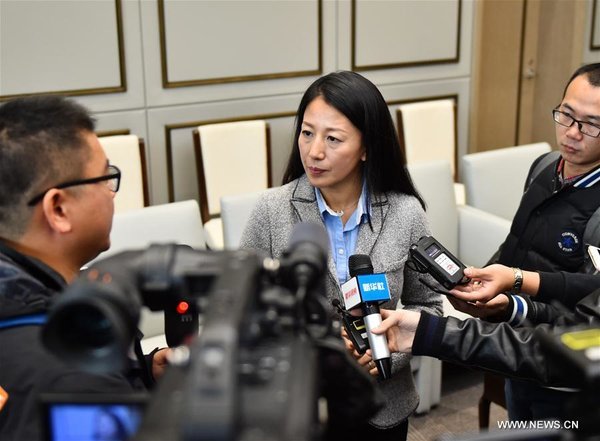 Yang Yang (C) takes part in an interview after the first plenary session of the Athletes' Commission of the Beijing 2022 Organizing Committee in Beijing on November 21. [Xinhua]
China's first gold medalist in the Winter Olympics Yang Yang, who is also a member of the International Olympic Committee (IOC), said in a recent interview that retired athletes would have a bright future if they made an excellent combination between their professional competence and the positive influence generated by the sports industry upon social demand and development.
Yang, 42, won the first gold medal for China at the Winter Olympics when she won the women's 500m short track speed skating at the Salt Lake City in the U.S. in 2002.
The possession of 59 world titles throughout her professional career has enabled Yang to become the athlete who grabbed the most world titles ever in China.
Yang has been closely engaged in the further development of China's sports after her official retirement in August 2006. She was elected as the first Chinese athlete in the IOC and took the post of vice-president of the All-China Youth Federation (ACYF) in 2010.
What's more, she became chairperson of the Athletes' Commission of Beijing 2022 Olympics as its first plenary meeting was held in Beijing on November 21.
During her interview, Yang noted that sports have contributed a lot to China's social development and become a channel for the country to showcase its strength on the international stage in the past several decades.
When talking about her new post, Yang disclosed that the inclusion of current and former athletes into the Athletes' Commission of Beijing 2022 will give them a full play in the preparations for the upcoming 2022 Winter Olympics.
She added that Beijing has promised the world an athlete-centered, sustainable and economical Winter Olympic Games during the bidding process, with 300 million people being involved in the event. This will echo the elevation of public fitness into a national strategy as General-Secretary of the Central Committee of the Communist Party of China (CPC) Xi Jinping mentioned in his keynote speech at the opening ceremony of the 19th CPC National Congress.
Yang concluded the interview by saying that she would work with her colleagues to provide athletes from both home and abroad in the upcoming 2022 Winter Olympics with a brilliant platform to demonstrate their talents.
Yang Yang (L1) competes with foreign athletes in a contest. [cnr.cn]
(Source: cnr.cn/Translated and edited by Women of China)