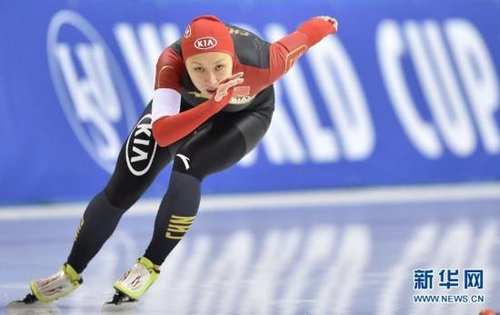 Chinese speed skater Zhang Hong will defend her 1,000m title in Pyeongchang. [Xinhua]
Defending speed skating champ determined to dispel self-doubt
Zhang Hong is focusing on beating only one person at the Pyeongchang Winter Games-herself.
The 29-year-old became China's first Olympic speed skating champion in Sochi four years ago, but her hopes of defending her 1,000m title have been hit by injuries in recent years.
What began in October 2016 as a cartilage-related issue in her right knee has now extended to her left knee.
Despite the pain she feels, the 29-year-old is maintaining a positive outlook about her chances in South Korea.
"My knee has affected me a lot in the last two years," Zhang said after a practice session at the Gangneung Oval this week.
"After my right knee became much better, the pain started to occur on the left side. There's a constant buildup of fluid in the joint and I can't squat as low as I need to in the race.
"Injury is my biggest enemy, but I am happy I am better at least on one side."
Zhang's unexpected victory in Sochi saw her shoot to fame back home, with her long-track discipline's more viewer-friendly, less-confusing nature (compared to short-track) also helping to boost her profile in China.
She knows all eyes will be on her to see if she can repeat her success in Pyeongchang.
The Harbin native, who will also compete in the 500m, is confident she is now experienced enough to cope with the glare.
"I didn't go into the last Olympics thinking I was going to win a gold medal. I could just focus on practice and nobody knew who I was," said Zhang, who will get her title defense underway on Feb 14.
"I don't want to give myself the pressure of defending the gold. I just want to be the best version of myself," she said.
"Only when you constantly outdo yourself on the ice will you be able to beat your opponents.
"Will I win gold, or a medal, or beat whoever? It's something I will achieve in the process of competing against myself. It's more important to first beat myself.
"The Zhang Hong in 2014 was like a newborn calf who had no fear of a tiger.
"Now, after all that I've been through in the last four years-victory then failure and the agony of injury-I am a more mature person.
"I understand better the true meaning of being an Olympic athlete."
(Source: China Daily)